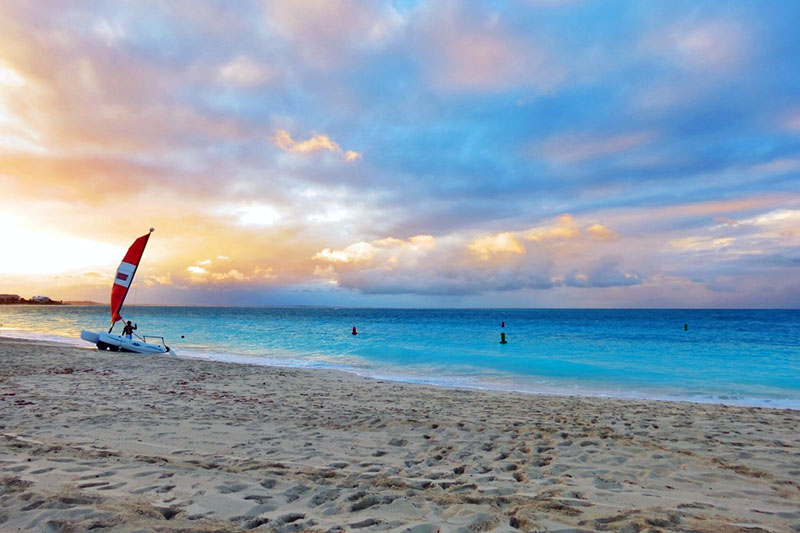 28 Aug

6 Instagram Worthy Places in Turks and Caicos

Turks and Caicos is an archipelago of approximately 100 cays and islands in the Atlantic Ocean, and it is truly a sight to behold as it is considered to be one of the most gorgeous getaways around the globe. If you are looking for a destination that is filled with jaw-dropping sights to fill your Instagram feed, or want spectacular backdrops for your vacation or family photos, then check out this fantastic paradisiacal island. There is a reason that this destination has served as the backdrop of numerous films and photoshoots. You are sure to find plenty of Instagram worthy photo spots in Turks and Caicos!

You can take a wide array of amazing photos on this beautiful island, so if you are looking for Instagram worthy photo spots in Turks and Caicos, you are in luck. We bring you a list of some of the best places to snap the perfect picture.

Chalk Sound– This scenic lagoon turns an intense turquoise color when the sunlight bounces off the floor of the sound and offers plenty of hiking opportunities. Chalk Sound is shallow, making it excellent for a photoshoot and paddle water sports, especially with its clean and algae-free water. While you are in the area, make sure you visit the sheltered and scenic Sapodilla Bay Beach and Taylor Bay Beach.

Conch Bar Caves– If you are looking for something different, then be sure to visit the Conch Bar Caves while you are here. These incredible caves are the most extensive above-ground cave system in the area. Inside the cave, you will not find lighting or developed stairs and paths, so navigating the cave can become quite the adventure. While taking photographs in low-light poses more of a challenge, if you can make it work for you, this location is a beautiful place to photograph.

Grace Bay– Voted as the best beach in the world a handful of times, Grace Bay is among one of the best locations in Turks and Caicos for your Instagram feed. The water is calm and blue, and the powdery white sand stretches for miles and features no rocks, pollution, or seaweed. If you are looking to hit up a villa, hotel, or resort while you are here, you can find nearly all of the main resorts on this coast. Be sure to hit up the infinity pool overlooking the bay at the Grace Bay Club Resort.

The Shore Club– Located on Long Bay Beach, this luxurious retreat offers amazing blue ocean views and offers white sand beaches and lush gardens. A top site for kiteboarding and other water sports, The Shore Club is located in a convenient location and offers multiple 'Instagrammable' places. To learn more about the 12 most 'Instagrammable' places at The Shore Club, click here.

Mudjin Harbour– A highly recommended attraction, this location features a small cave and a fantastic overlook. Located on the north of Middle Caicos, this stretch of land is considered to be among one of the finest landscapes of Turks and Caicos. You can easily spend hours here at this location since there is so much to explore, shoot, and see. Besides the large open-faced cave above the beach, there is also a scenic overlook at the top of the cliff.

COMO Parrot Cay [Reopening on October 1st)- This elegant, exclusive resort is only accessible by a 30-minute boat ride. Still, if this place is within your budget, this private island is a must-see. This luxurious resort spans 1,000 acres and offers a mile-long beach, giving you plenty of opportunities to snap the perfect photo for your Instagram feed.