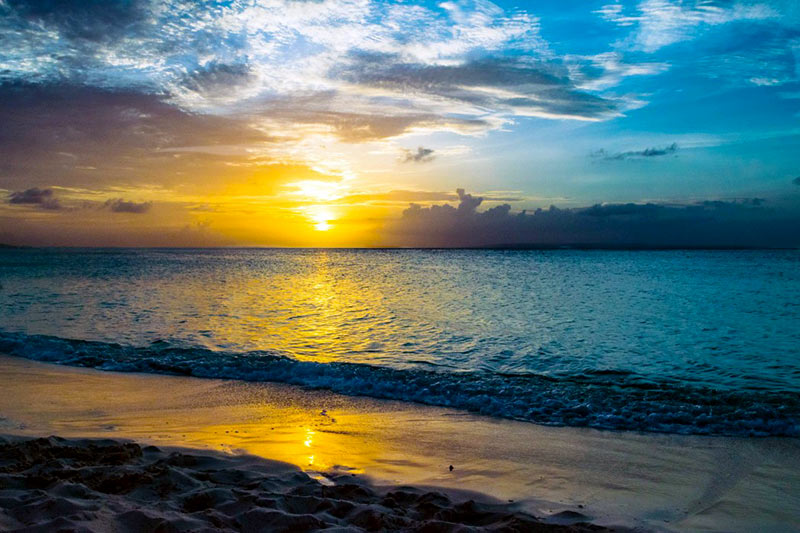 13 Jul

Best Places for Sunrise and Sunset Photos in Turks and Caicos

Whether you are planning your first, or next, Turks and Caicos photoshoot, make sure you add sunrise and sunset photos to your list. Watching the sunrise and sunset in Turks and Caicos is a sight to see, as nature's colorful display makes an excellent backdrop for your next photoshoot. During sunrise and sunset, the gorgeous mix of colors can add a dreamy feel to your photographs. Knowing where some of the best places for sunrise and sunset photos in Turks and Caicos are can help you seamlessly plan your next romantic or family photoshoot.

The islands of Turks and Caicos offer some of the world's best beaches, and on this dreamy island catching a spectacular sunrise and sunset is easy, especially if you know where to go. To help you plan your next photoshoot, learn more about some of the best places for sunrise and sunset photos in Turks and Caicos.

Long Bay Beach– For amazing sunrise photographs, visit the eastern facing Long Bay Beach. Offering long, gorgeous stretches of white sand and a beautiful turquoise sea, this beach also provides constant winds that are ideal for adding a kite to your list of props.

Grace Bay Beach– A popular and well-known destination, this gorgeous beach is unique because it gives the illusion that the sun sets in the exact spot where the ocean and sand meet. A pristine, white sand beach, the backdrop here is unmatched.

Juniper Hole– Juniper Hole is not like the others on this list, as it is a large open-faced ocean cave. Located on the northwestern point of Middle Caicos, this highly scenic area is highly secluded and is not for the faint of heart. The only way to access this majestic site is to hike the Crossing Place Trail, so come prepared.

Taylor Bay Beach– Located on the southwest coast of Providenciales, you can witness one of the best sunsets you will see on the island. If you are looking for a spot that doesn't have a lot of water traffic, this pristine white sand beach is your go-to spot.

Sapodilla Bay Beach– This western facing beach is ideal if you have small children, as the water is shallow and there is no current. This 900 foot long stretch of sheltered beach offers magnificent, white sand and clear, calm warm water making it a prime location for a photoshoot.

Pumpkin Bluff Beach– Pumpkin Bluff beach is one of the nicest in North Caicos and it doesn't see a lot of visitors, making it a prime spot for sunrise or sunset photos. If you are looking for miles of undisturbed soft sand, along with a bit of solitude, pay Pumpkin Bluff beach a visit.

Malcolm's Road Beach– You can find this gorgeous beach on the far west point of Providenciales, and while it's one of the best places for sunrise or sunset photographs, having a 4×4 vehicle is highly recommended. While the drive may be rough, this secluded location offers a scenic view of the coastline and peach-hued sand.