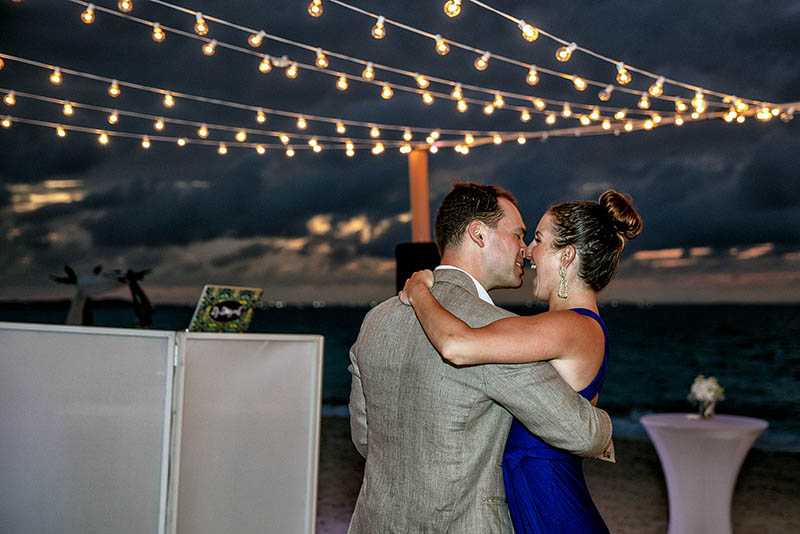 30 Oct

How to Incorporate Lights at Your Beach Wedding

If you are planning a beach wedding, lighting is something you may not think about, but it's something to consider since proper lighting can help create an intimate atmosphere. Even though it's often overlooked, good lighting can make a wedding unforgettable by transforming the outdoor space into something magical and ethereal. While using lights for an evening ceremony is necessary, outdoor lights can still be utilized during the day, depending on your setup. Here are some beach wedding lighting ideas you can use as inspiration to help you create the perfect ambiance for your wedding day.
Beach Wedding Lighting Ideas: Inspiration for Outdoor Weddings
String lights: Using string lights is an easy way to transform an outdoor space into a dreamy wonderland, and there are many ways you can incorporate them. Using a canopy of string lights can help create a fairy-tale-like atmosphere while combining string lights and white flowers can help add a touch of romance.
Curtain lights: If you are getting married under the night sky, decorating your wedding arch with flowers and curtain lights can make a breathtaking statement and can really make your wedding photos pop. Imagine exchanging your vows underneath a beautifully adorned wedding arch-is there anything more romantic?
Candles: Electric and battery-operated lights are just one of the ways to go, as candles can be an excellent lighting source if you take precautions and use them properly. Candles can be hung in holders and placed on tables to give off the perfect amount of gentle, glowing light. Think of a candle-lit dinner. Is there anything more romantic?
Lanterns: Using paper or wooden lanterns can give your beach wedding a more natural look while creating a warm and inviting glow. A popular lighting choice, lanterns come in many shapes and sizes, and they can be hung or placed on tables as a centerpiece or to highlight walkways.
Aisle lights: Lighting up the walkway down to the altar with wedding aisle lights can help highlight the "main stage" and draw your guests' eyes to the aisle as you make your big entrance. You can be creative by using paper lanterns, lanterns, torches, string lights, or even candles to highlight and illuminate your trip down the aisle.