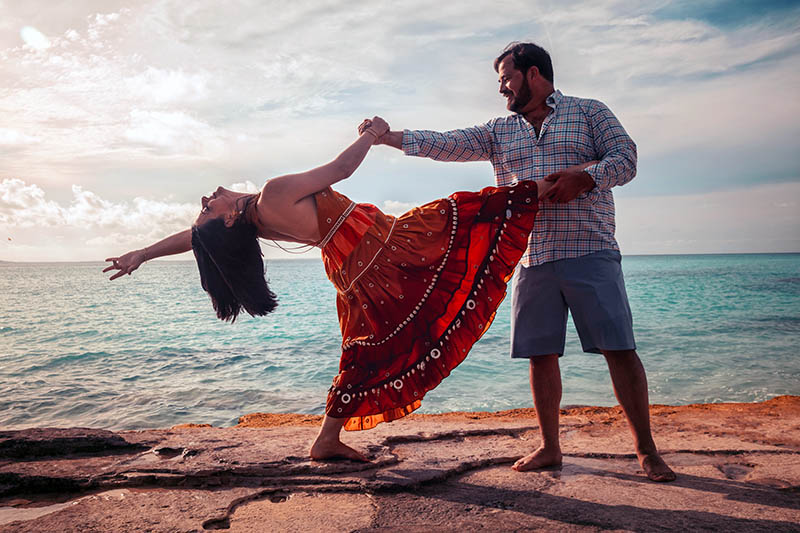 31 Aug

Engagement Photo Ideas for Memorable Photographs

Once you find your dream photographer, many couples opt to do engagement photos before the big day. Engagement photos make an excellent keepsake and can also be used in your wedding invitations, save the dates, and even on your wedding website. However, knowing what kind of engagement photos to do can be tricky, but when it comes to this part of the process, it's best to get creative and have fun with it! To help you shoot the photos of your dreams, check out these engagement photo ideas for inspiration.
8 Fun and Creative Engagement Photo Ideas
1. Find a sunflower field or a botanical garden if you and your significant other love the outdoors. It's a great way to represent your love for one another while adding a splash of natural color to your photos!
2. If you are looking to incorporate greenery into your engagement photos, but it's during the winter, don't rule out greenhouses. Finding a greenhouse is a great way to incorporate florals and greenery into your photographs, even when it's cold and snowy.
3. If you plan to do your engagement photoshoot during the winter, taking photos in the winter snow is incredibly romantic. A winter snow photoshoot is bound to give you beautiful and romantic pictures.
4. After being with someone for some time, you are bound to have at least one memorable location. Using that spot or place to shoot your engagement photos is a great way to have a deeper connection to your photographs.
5. Incorporating your kids and pets into your engagement photos is an excellent way to bring other family members into your special moment, which will be immortalized forever. You can get silly, or keep it clean, or even a bit of both. Either way, it's a great way to show off the importance of family.
6. Using a museum or a landmark as your backdrop can be a great way to incorporate your interests into your engagement photos. Maybe it's a piece of architecture that you feel drawn to (i.e., bridge, church, building, etc.), or there's a museum that you love to visit.
7. If you are looking for up-close and personal candid shots, show intimacy by holding hands, embracing each other in a hug, or even going for a piggyback ride! Depending on how the picture is composed, these up-close shots don't necessarily require an extensive backdrop.
8. Water often represents emotions, so you might want to incorporate water into your photos. Water can also be used artistically to include reflections, making for some stunning photographs. Find a beach, lake, or even a fountain to pose with your significant other if you want a beautiful and serene backdrop.