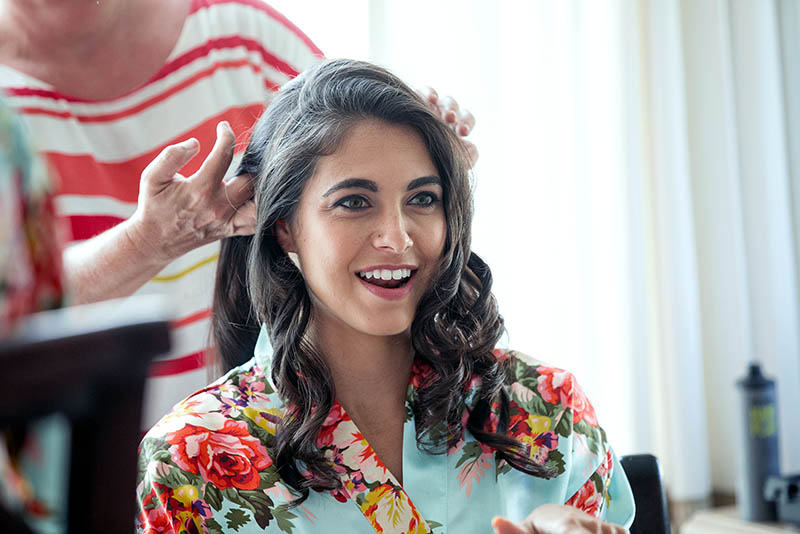 31 May

Beach Wedding Hair Ideas and Styles

Getting married on the beach means you embody the spirit of the beach and the ocean. Couples that get married seaside enjoy the casual and easygoing aesthetic that the beach provides. Having a beautiful backdrop, along with the sounds of the sea, make for a laid-back vibe that permeates throughout your wedding day. Beach weddings are typically more casual than formal black-tie events, which can be seen in every element. However, even with a relaxed wedding, there are still essential elements to plan out, and beach wedding hairstyles are one of them. While stiff and formal hairstyles don't match the vibe, you also want a hairstyle that will hold up to the elements and look great doing so. Beach wedding hair should look polished yet effortless. If you want some beach hair inspiration, try these beautiful beach wedding hair ideas and styles!
Beach Wedding Hair: Styles and Ideas for Your Wedding Day
For Short Hair
• Keeping it simple is easy to do with short hair, especially if you have straight hair. All you need is straight locks and a colorful headband or tiara.
• Sometimes, keeping it natural is best. Embrace your short curly hair by adding a stunning hair accessory, such as a ribbon, tiara, or brooch.
• Frame your face by holding your bangs and hair in place with a vibrant and colorful flower crown.
• If your short hair is prone to frizz, use your wedding veil as a headscarf. It will look classy and protect your hair from humidity.
• If you have pixie hair, embrace it. Sometimes less is more, and with this type of hairstyle, there's nothing else needed.
For Medium Hair
• If you have hair that is naturally tightly curled, sometimes it's best to leave it alone. Instead, twist pieces of your hair away from your face and secure it with a fashionable pin or flower.
• Pulling your hair back into a ponytail is simple yet hassle-free. You can add a touch of elegance by wearing a flower crown, headband, or even a tiara.
• Wearing a veil for your beach wedding is possible, and it looks great with your hair down. Add some light waves to your hair, and pin a veil to the top of your head for the ultimate look.
• Securing a veil under a curled ponytail is a classy way to keep your hair out of your face and will help keep your hairstyle intact throughout your wedding day.
• Medium hair can be kept down, even in the heat. Add a side part and some volume to your hair, and pair it with a crown or tiara.
• Twist and braid your hair into a bun on the back of your head, and then add an accessory of your choice. This will help keep your hair in place while looking stylish yet relaxed.
• You can also pull your hair into two braids and then wrap it around your head, securing it with pins, to achieve a classy yet beachy look. Frame your face by loosening up a few strands of hair in the front.
For Long Hair
• Wearing your hair half up and half down is a great way to add some volume, hold, and flair. Your hair could be straight or wavy, but adding a flower or two to your hair can make it look elegant.
• Adding curls to your long locks and pinning down half of your hair towards the back of your head is classic yet elegant. Add a beachy vibe by topping it off with a flower crown.
• Pulling your hair back into a sleek bun (either high or low) looks refined yet elegant without being over the top. The best part is it will keep your hair secure and out of your face.
• Keep your hair natural by simply twisting both sides towards the back of your head into a low ponytail. Adorn your hair with a flower headband or crown and ribbons.
• Another simple yet elegant ponytail hairstyle is to add a braid or twist to one side of your head and wrap it into a ponytail on the back of your head. Secure with a flower or another bridal accessory.
• If you want to keep it simple, keep your hair down (either straight or curled) and add some flowers, a seashell pin, a brooch, or a tiara to achieve an effortless flowing hairstyle.