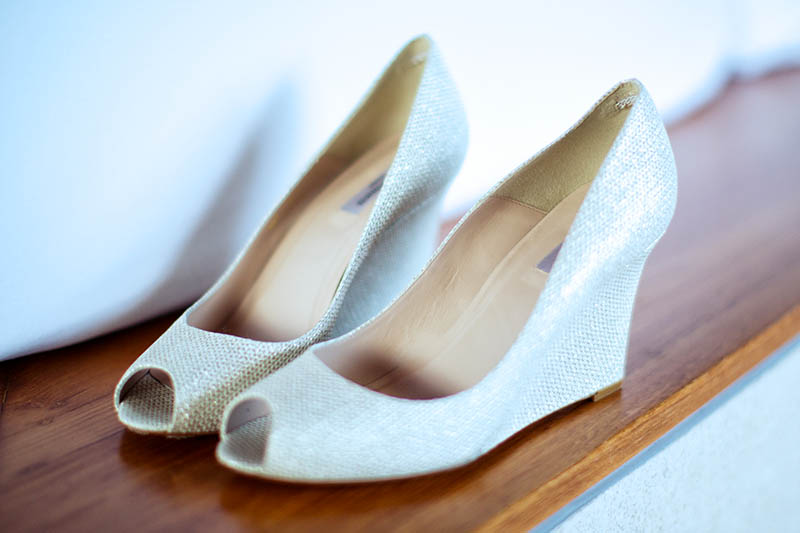 30 Apr

Beach Wedding Shoes: What Should I Wear?

There's something to be said about getting married on the beach. The sounds of the ocean, a salty breeze, and an amazing backdrop make for a day to remember for everyone involved. A celebration of love, a beach wedding is both beautiful and romantic. However, it does come with its own set of challenges. If you are getting married on the beach or have been invited to a beach wedding, you may be stumped on what to wear, especially when it comes to deciding on a pair of shoes. Beach wedding shoes should be comfortable and appropriate for the wedding. Unless the dress code specifies otherwise, beach wedding outfits typically consist of flowy, breathable material and cute, comfortable shoes.

When it comes to shoes at a beach wedding, you need to consider the fact that you will more than likely be walking across the sand. If you wear skinny heels, stilettos, or pumps, you will have difficulty walking because your heels will sink into the sand. Unless you are planning on going barefoot, knowing which beach wedding shoes to wear can help you remain elegant and comfortable.
Beach Wedding Shoes to Wear as a Guest
Wide/Block Heels
Wearing a pair of heels feels right at a wedding ceremony, especially if it complements your outfit. However, wearing a thin pair of heels can spell trouble when it comes to walking on the sand but wearing a pair of wide heels can help. Wearing a pair of open-toe shoes with a wide or block heel is elegant and will help you remain steady while walking in the sand. Look for a pair that offers supportive heel straps, or stretchy mesh, to support your feet so you are not wobbly when you walk.
Sandals
Wearing a cute pair of sandals is beach-friendly and goes great with many outfits, as they are comfortable and chic. When it comes to beach weddings, strappy sandals offer support and stability on the sand while giving you a cohesive look. Sandals can be simple or embellished and come in various colors and styles, so you will likely find the perfect pair for your beach wedding attire. Another option is wearing barefoot sandals, which are both simple and elegant and are the ideal option when you want to feel the sand between your toes. Just remember to bring a pair of flats or another type of shoe if any part of the wedding is held indoors.
Platform Wedge Sandals
Wearing platform wedge sandals are ideal if you want a shoe that adds some height while offering stability and balance. Since the shoe is one piece, they won't sink into the sand like traditional skinny heels. Plus, they come in a variety of different styles and colors, so you are sure to find the perfect pair to go with your outfit. If you want the most stability and ankle support, look for a shoe with a low(er) wedge and a T-strap.
Flats
Aim for a pair of flats if you are looking for a shoe that you can wear anywhere, even outside of the beach wedding. A good pair of flats are stylish, comfortable, and perfect for walking on the sand. There are no high heels, and while they can slide onto your feet, they offer support and will not easily fall off (unless they are too big!). If there is a reception indoors, wearing flats will allow you to successfully transition from the beach to the indoors and look great while doing it. Flats come in various patterns, textures, styles, and shapes, so it's easy to find a pair that accentuates your outfit.
Boat Shoes (For Men)
For men, wearing a pair of boat shoes is an excellent choice for a beach wedding. Boot shoes are versatile, stylish, and comfortable and come in various styles and colors. Plus, they go great with casual outfits, which is typically the dress code for a beach wedding, and will go great with a pair of shorts or khakis. If you are looking for a pair of boat shoes that are more formal for a beach wedding, then opt for a pair of leather boat shoes.