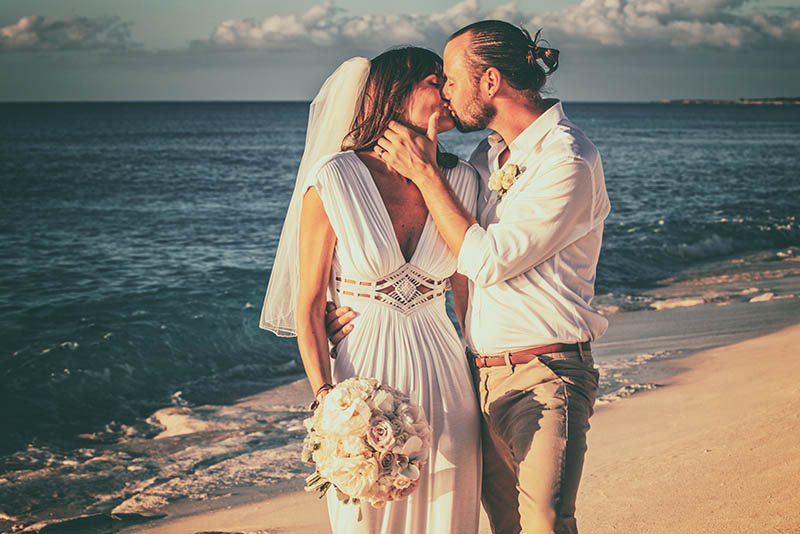 25 Mar

How to Stay Cool and Comfortable at Your Tropical Wedding

Are you dreaming of a tropical wedding? Getting married at a tropical destination or during the summer months can make for a beautiful wedding. Nature is in bloom, and the landscape is vibrant and warm. However, if there's too much heat, it can quickly become hot and uncomfortable. Sweat is a significant threat and potential factor in any summer wedding, and it can quickly ruin a bride's hair, makeup, and wedding gown. Luckily, these summer bridal tips can help you prevent some of these catastrophes while you stay cool and fresh on your wedding day.
Summer Bridal Tips for Your Tropical Wedding Day
Have a Light Dress Code for Your Wedding Party
Having a tropical wedding can be hot and miserable if you aren't wearing the correct attire. So, when it comes to your bridesmaids and groomsmen, make sure they are wearing something that is light and airy. If you desire formal attire, look for cool and breathable material. Otherwise, have your wedding ceremony indoors. The last thing you want is your wedding photos to capture the misery of discomfort, sweat-stained clothes, and smeared makeup.
Have Some Coverage
Having shade for your summer wedding is vital if you want to remain comfortable under the shining sun and are looking to ensure that your wedding party and guests are not baking in the sun. It's impossible to know the weather ahead of time when you set your wedding date, especially since an event this important takes time to plan. Having shade is crucial if you happen to have your wedding day on the hottest day of the year. Having coverage can also help protect you from rain. Summer showers are common, so having all your bases covered is crucial.
Have a Backup Plan
While having coverage for your outdoor wedding is important for shade and protection from the sun and rain, having your wedding under a canopy or small tent might not protect you in the case of extreme weather. Unless you plan on using a heavy-duty tent that's stable in the elements, it's best to have a backup plan in case of severe weather. Make sure you can use an indoor venue in the event of a thunderstorm or extreme heat.
Avoid the Hottest Part of the Day
The last thing you want is for everyone to remember your wedding day being hot and miserable. You want to have fond memories of your wedding, so if you are set on having your wedding outside, don't hold your ceremony during the hottest part of the day. While this time varies depending on your location, the sun often is at its peak around 3 pm. While the early morning can also work, having your ceremony in the evening can help keep everyone cool and comfortable.
Have Light, Hydrating Food Available
You want your guests to be energized when it's warm outside and not bogged down. Eating heavy foods when it's warm outside can make some people sick, so avoid serving heavy meals unless you have part of your wedding in air conditioning. Otherwise, stick to food that is light and hydrating. Having plenty of fresh fruits, vegetables, and salads available is key. If you are dead set on having some sort of protein available, avoid red meat and aim to use many ingredients that offer protein without being too heavy.