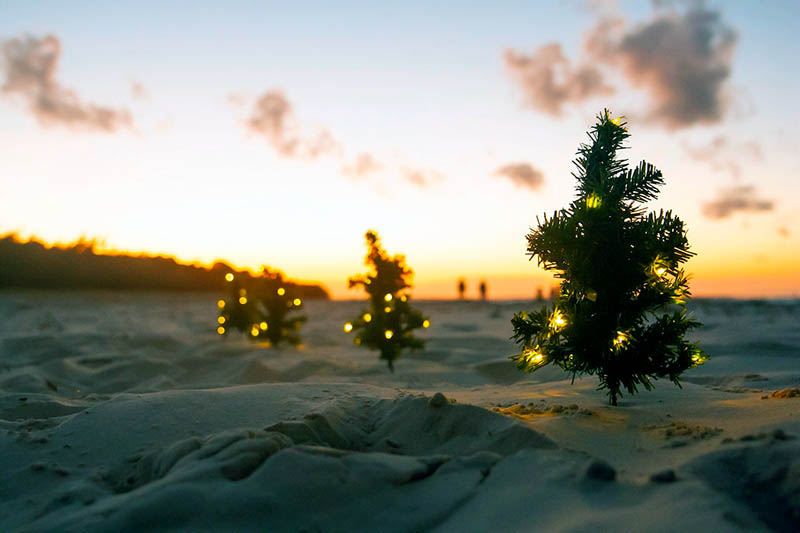 20 Dec

How to Incorporate the Christmas Spirit into Your Beach Wedding

Getting married in December, no matter where you get married is a great way to ring in the holiday season and end the year on a positive note. The holidays make for a delightful time of year, especially during the month of December, and getting married at this time can make for one big holiday party. However, if you choose to get married somewhere where the weather is warm and not so frightful, you may be wondering how you can incorporate the holiday spirit into your wedding. Especially if you are planning on having a beach wedding. Even if you plan on getting married on the beautiful beaches of Turks and Caicos (or anywhere else warm), there are ways to put everyone at your wedding in the Christmas spirit. So, add a dash of winter charm by checking out these festive Christmas beach wedding ideas.
Christmas Beach Wedding Ideas: How to Incorporate the Christmas Spirit
• Add some mistletoe above the wedding altar and the bride and groom's table at the reception. This way, the newlyweds can kiss under the mistletoe throughout the night.
• Winter greenery such as pinecones, winterberries, and poinsettias are commonly seen as winter décor, so add some to your bouquet, or incorporate them into your wedding décor.
• If you plan to have a photo booth at your wedding, include Christmas props to create some festive photos. Think reindeer antlers, reindeer noses, elf hats, elf ears, and of course, Santa hats and beards.
• Instead of just using plain white tablecloths, add some plaid. If you want to use something other than a plaid tablecloth, incorporate a plaid runner to add a touch of the holidays without being over the top.
• When it comes to wedding favors, wrap them up into presents to get them into the holiday spirit. If you are wondering what to offer, create ornaments with the date of your wedding, which will serve as a festive reminder of your wedding day.
• For your wedding theme, incorporate Christmas colors into your décor. Red, green, and gold will go great with the beach landscape and can make for some beautiful photos. You might even want to take it a step further and ask your guests to wear these tones.
• Even a warm beach day can get cool at night, so bring out the hot dessert station when the temperatures cool off. Offer up a selection that will make people think of the winter season, such as hot toddies, warm apple cider, egg nog, and of course, hot chocolate.