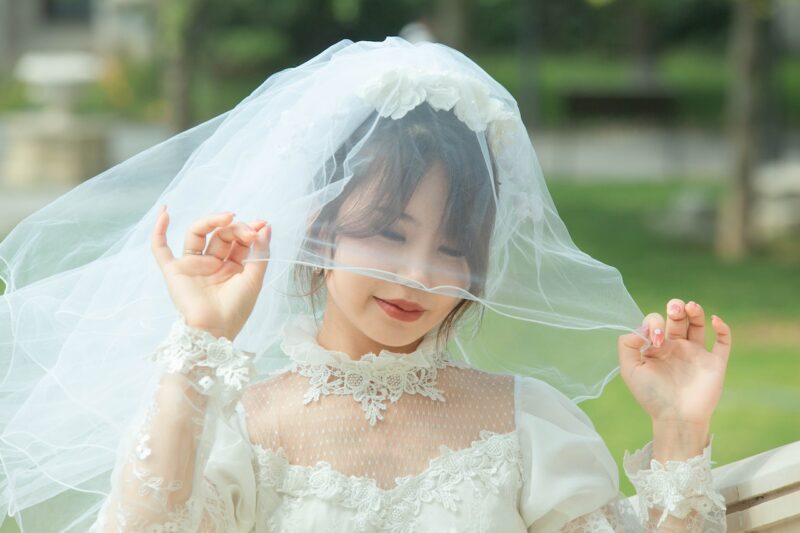 20 Nov

How to Choose the Perfect Wedding Veil

When planning your dream wedding, there are many things to consider. Picking your wedding venue, narrowing down your guest list, choosing a date, and buying the perfect wedding dress and accessories are all big-ticket items on your wedding planning to-do list. Wedding veils are an essential accessory that can be difficult to narrow down. There are various sizes and styles to choose from, so much so that it can be overwhelming to find the perfect one. Making decisions regarding your wedding can be difficult, but it doesn't have to be when you know what to look for. When it comes time to choose a wedding veil, keep these helpful tips in mind.
How to Choose a Wedding Veil
Is a Wedding Veil Right for You?
A wedding veil isn't always necessary, so deciding if a wedding veil is right for you should be the first step. While a wedding veil can enhance your overall appearance and is rich in tradition, some circumstances may make you reconsider if a wedding veil is necessary. A wedding veil can cover up your hair, so if you prefer to show off your hair, you might want to forego wearing a veil or pick a very minimal one. Also, a windy day can make it difficult to wear a wedding veil if you are getting married outside. Spend some time considering the pros and cons before you decide.
Know Your Hairstyle
Keeping your hair in mind before you choose a wedding veil is essential. Knowing how you will wear your hair before picking the perfect piece can help you make the correct decision. Wearing your hair up or down will affect where the veil is placed and how it needs to be attached. You don't want to purchase a veil that isn't appropriate for your planned hairstyle. A bridal cap, halo, and mantilla veils are more suitable for wearing your hair down, while a birdcage or blusher is the better choice if you plan to wear your hair pinned up.
Choosing the Correct Color
Bringing a swatch of fabric from your wedding dress is necessary if you cannot purchase your wedding dress and veil from the same store. If you are not able to buy both from the same shop, bringing a color swatch can help ensure that you purchase a wedding veil that matches your dress. You will want to purchase one that is as close in color to your wedding dress as possible. The only exception is if you are planning on wearing a wedding veil which is a family heirloom, where tradition is more important than aesthetics.
Don't Over Embellish
A wedding veil can be simple or heavily embellished, but to decide which one is appropriate, make this decision based on your dress style. If your wedding dress features many embellishments, a busy veil can take away from the beautiful details of your wedding dress. However, if you are wearing a simple wedding dress, having an extravagant wedding veil can help spruce up your look. Just be sure that your wedding veil doesn't feature contrasting elements such as sequins and pearls.