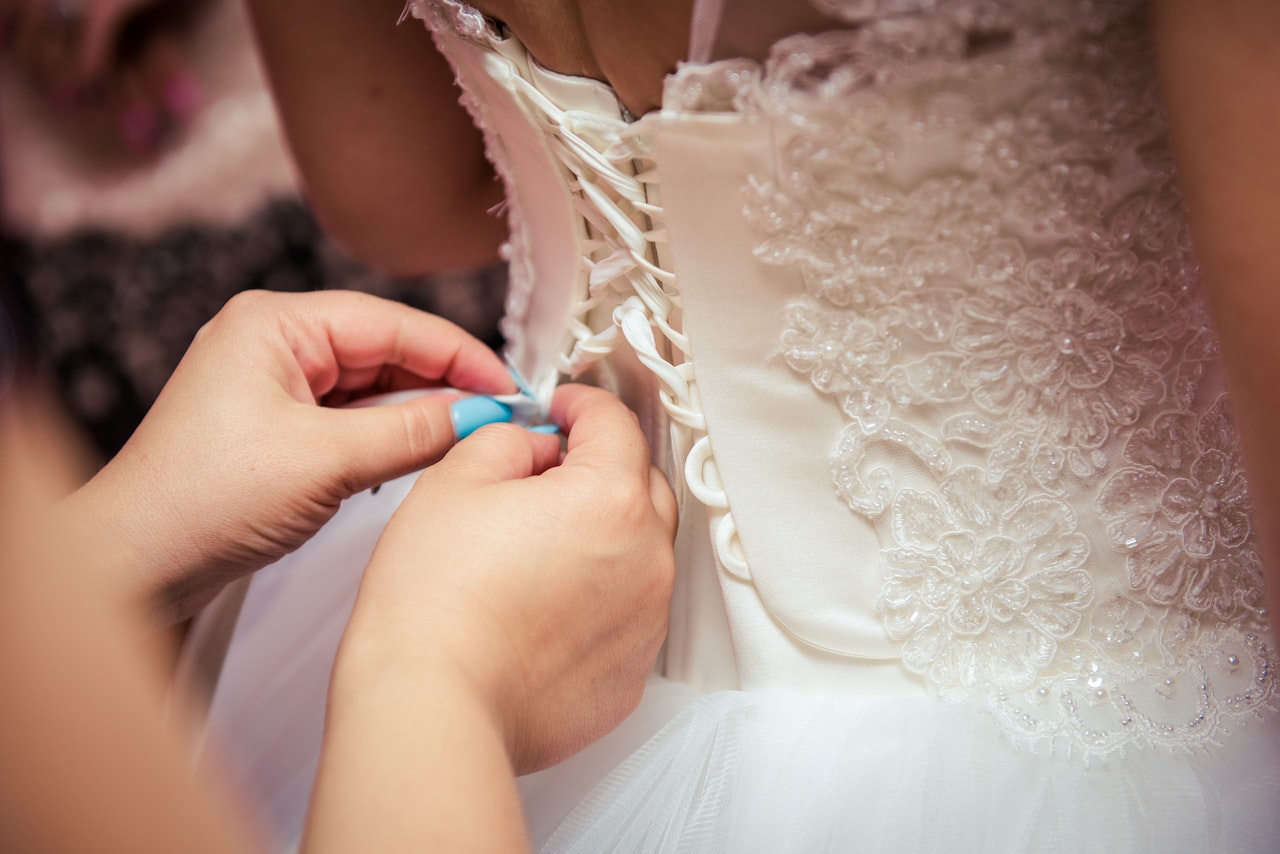 20 Oct

What's Needed in a Wedding Dress Emergency Kit?

As you prepare for your wedding day, don't forget to create a wedding dress emergency kit. Think of it as a first aid kit for your wedding dress. Accidents happen in life, but when they happen on your wedding day, it can feel like the end of the world. Especially if you happen to undergo a beauty or fashion mishap, so give yourself peace of mind by being prepared. The last thing you want is to get a stain on your white wedding dress, or worse, especially before pictures. But having a kit on hand can help save you from embarrassing moments and accidents.
What Should I Pack in a Wedding Dress Emergency Kit?
You will want to include anything that can be used in an emergency or simply if you need to make your wedding dress functional and more comfortable. Things to include are:
Shout Wipes/Tide Pen: Having something on hand to remove stains is crucial. Stains can occur from spills, dirty surfaces, or even from your own makeup.
Lint Roller: If your dress is made of material that likes to catch everything (i.e., dust, hair, lint), then make sure you have a lint roller handy in your wedding dress emergency kit.
White Chalk: Have a white dress with a stain that is difficult to remove, even with a Tide pen? Using white chalk can often help hide these stubborn stains.
Sewing Kit: Buttons can pop off, seams can bust, or maybe you find that you need something restitched. Having a sewing kit is handy for these moments. Make sure it includes safety pins and thread that match your dress.
Superglue: For those repairs that need more than a sewing kit, superglue can come to the rescue to help save the day and your dress. Just be sure to use sparingly, and look for glue that dries quickly.
Fashion Tape: Fashion tape can help keep your dress in place in those troublesome areas. The last thing you need is your dress sliding down during photos or when greeting your friends and family.
Steamer: Having a steamer available can remove any wrinkles from your wedding dress. If you are traveling for your wedding and have your wedding dress packed up, this is a necessity!
Static Guard Spray: Static electricity can build up, which can be a nuisance. But having static guard spray on hand can help eliminate static electricity and can prevent it from building up throughout the day.