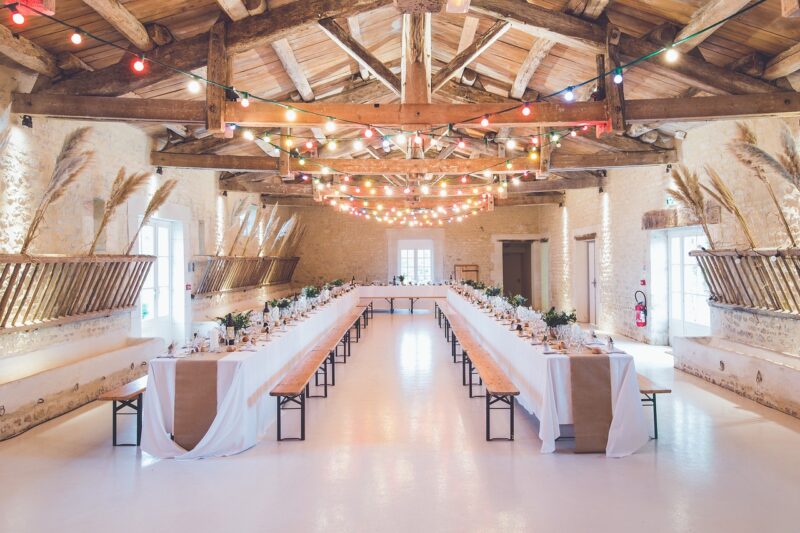 31 Oct

What to Consider When Choosing the Right-Sized Wedding Venue

Choosing your wedding venue is one of the most important decisions you will make during the wedding planning process. While your wedding day will probably be one of the most exciting days of your life, planning a wedding can be complicated and stressful. When you are in the planning stages of your wedding, you must choose the right-sized wedding venue if you want the big day to go on without a hitch. You don't want to book a venue outside your budget or, even worse, doesn't offer the space needed to accommodate your wedding guests.
How to Determine the Right-Sized Wedding Venue
Know Your Budget
Knowing your budget is one of the most important aspects to consider before choosing a wedding venue. Knowing how much you can spend will help you to pick the best space based on what you can afford. Just make sure you take the cost of food per person in mind as well. If you have a limited budget, having a lavish wedding in a large venue may not be the best financial choice or decision.
Estimate Your Guest Count
Once you have your budget set, estimating your guest count is necessary. While the number will be an estimated one (you will not know the precise number of people attending before your wedding), having a ballpark figure is needed if you want a large enough space to fit all of your guests comfortably on your big day. For the sake of yourself and your guests, you don't want to have a venue that is too small or too large. Especially if you are operating on a limited budget.
Knowing Your Preferred Venue Type
Knowing what you want for your wedding day and where you would like to get married is crucial. Outside of having a budget and an estimated number of guests, having a preferred venue type in mind can help you with your decision. It can also help you make any needed adjustments before you finalize your plans. For instance, if you have an estimated 200 guests, then choosing a small and charming venue isn't going to work unless you want to alter your guest list.
Knowing How the Venue Charges for Guests
Reading the fine print for each venue can help you make your final decision and can save you a lot of unnecessary stress and money. Specific venues will charge you depending on the number of guests attending, while some will charge you for additional guests. When it comes to finalizing your decision, knowing how the venue charges and if there are any other extra costs can help you narrow down your search for the perfect wedding venue.