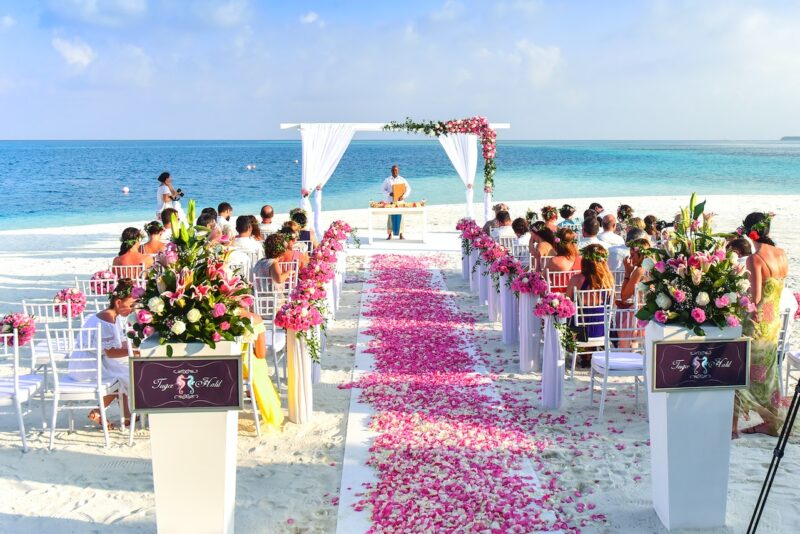 22 Sep

Should I Have Separate Ceremony and Reception Venues?

Planning a wedding is a big task, and questions will arise as you go along in the planning process. A common thought that comes up relates to the location of your wedding ceremony and reception venue. Some people may decide on having both at the same location, but they can also be separate. Trying to decide whether or not to have both at the same location or two different places can be a difficult task. Sometimes it's hard to know what we want or should do. However, writing out the pros and cons can help since it is helpful to see both sides of the coin written down. That's why we have listed the pros and cons of having your ceremony and reception venue at one location. While our list may not completely line up with your needs and wants, it can help you get started on your own pros and cons list.
The Pros and Cons of Having Your Ceremony and Reception Venue at One Location
The Pros
#1. Inclement weather can make travel difficult depending on the time of year and location. Having both your ceremony and reception venue at the same place eliminates the need for additional travel.
#2. Even though we live in the age where GPS is available on our phones, your older guests may not be tech-savvy, or maybe some are not comfortable with driving in areas they are unfamiliar with. Not having to travel more than necessary can make it easier for those who are out of town and don't live locally.
#3. If you have a limited budget, having your ceremony and reception at the same venue might be the more cost-efficient option. However, this is not always the case since many factors are involved. But it is worth considering if the venue gives you a great deal to have both in one location.
#4. If you have a theme set for your wedding, having your ceremony and reception venue at one location is the best way to ensure a seamless transition. Not having to set up at two different locations is also easier and will eliminate the need to travel to a second location with the supplies you need.
The Cons
#1. Having everything at one location may not satisfy your dream if you have a particular vision regarding where you will exchange your vows. For instance, if you want to exchange vows on the beach or in a specific location that has meaning, then having both the ceremony and reception in one location may not be for you.
#2. Depending on the venue, you might be limited in space. While some venues might offer you the space you need, some may not have the room to have a ceremony and everything else afterward. It may just be one big room or a bunch of smaller spaces, so you might have to make compromises and changes to your vision.
#3. If religion and tradition are important, getting married at one location may not be feasible. Unless the church, synagogue, or place of worship has an area on site to hold your reception, you might have to hold your ceremony and reception at two different locations.