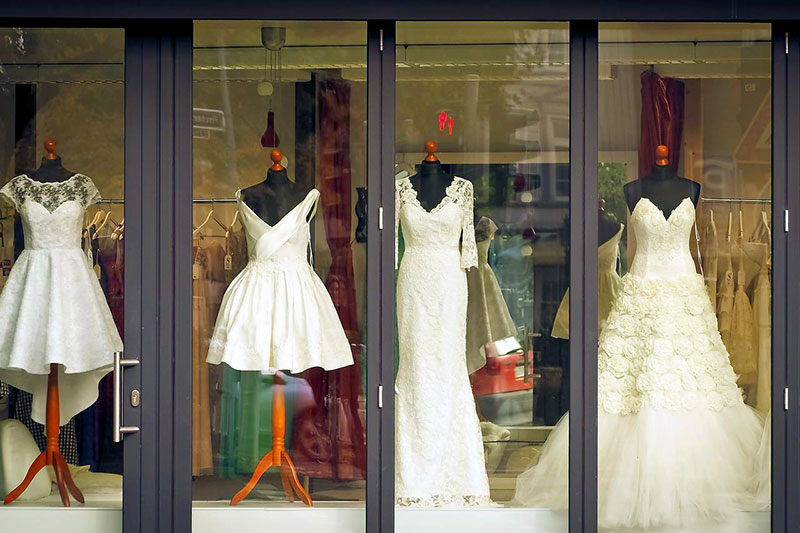 31 May

Wedding Dress Shopping? Don't Do These 5 Things

When it comes to planning a wedding, there are a lot of details to take care of. Some of these elements can seem rather mundane, while others can be exhilarating. One of the most exciting aspects of planning a wedding is wedding dress shopping. Many brides dream of finding the perfect wedding dress, so it's easy to experience a range of emotions when going wedding dress shopping. However, many factors come into play when shopping for a wedding dress. There are various styles, prices, and stores to choose from, which can easily make one feel overwhelmed. However, knowing what to avoid when wedding dress shopping can help make this process memorable for the right reasons.
5 Things to Avoid When Wedding Dress Shopping
#1. Window Shopping
When it comes time to find the perfect wedding dress, do not just pop into a bridal salon. Most operate by appointment only, especially since COVID. If you want to window shop, use the internet to do your research, and when you have pinpointed a place, call to make an appointment. Otherwise, if you pop in, you may not be able to try on anything.
#2. Bringing Incorrect Undergarments
When it's time to try on wedding dresses, be mindful of the undergarments you are wearing. What you wear underneath can affect how a dress fits and looks on you. Typically wearing a strapless bra and nude underwear is always a good option, but it can't hurt to bring a few different pieces of undergarments with you while trying on wedding dresses.
#3. Going on an Empty Stomach
You might be tempted to go wedding dress shopping on an empty stomach, but don't. The last thing you want is getting hangry while trying on dresses, or worse, getting lightheaded and dizzy because you are running on low fuel. Understandably, you don't want to try on dresses while bloated, so eat light, and bring some snacks with you to keep you fueled throughout the process.
#4. Wearing Makeup
We get it, you don't like leaving the house without makeup on, but when you are shopping for the perfect dress, the last thing you want, or need, is to have your makeup rub off on the dresses you are trying on. This can make for an embarrassing situation and is an excellent way to upset the bridal salon worker assisting you. While some places may have samples for you to try on that are already stained, it's better to play it safe.
#5. Not Taking Photos
During the process of trying on dresses, make sure you take photos. Having photographs can help you when you are trying to pick out the perfect dress. Unless you manage to find that one perfect dress immediately, you probably will have a few dresses that you like. It can be challenging to choose when you have a few options, but if you have photographs, it makes it easier to go back and compare each dress and how it looks on you.