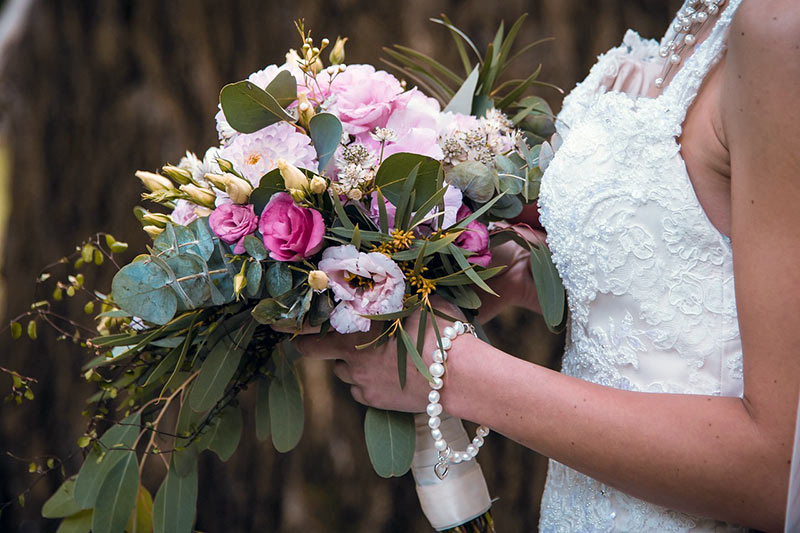 21 May

How to Stay Cool and Fresh as a Summer Bride

Getting married outdoors during the warmer months has a lot of advantages. Being outside in the warm, sunny weather can make for a beautiful wedding, especially when getting married in a scenic place. However, the sweat is the downside of getting married outdoors during the summer months. When the temperatures are warm, and the summer sun is shining, it can be difficult to remain cool and fresh. This can be a challenge as a bride, mainly since sweat can ruin your hair and makeup and can even cause sweat stains on your beautiful wedding dress. On your wedding day, you deserve to look and feel your best, so check out some of the ways you can stay cool as a summer bride.
5 Ways to Remain Fresh and Cool as a Summer Bride
#1 Stay Hydrated
You have a lot going on on your wedding day, so it may be easy to forget one of the essential steps of staying cool as a summer bride-staying hydrated. Remaining hydrated can help keep you cool and looking your best, and it can also help against the signs of dehydration. The last thing you want is a medical emergency on your wedding day, so keep yourself hydrated by drinking water every hour.
#2 Stay in the Shade
If you are having your wedding ceremony outside, make sure you do so in a shaded area. It's easy enough to add a temporary structure to provide shade for your outdoor wedding. Using a tent or gazebo can help protect everyone in attendance from the elements, rain, and wind included, and can help keep everyone cool. This way, you and your guests aren't baking in the hot sun.
#3 Get Your Hair and Makeup Professionally Done
You want to look and feel your best on your wedding day, so leave it to the professionals when it comes to your hair and makeup. Using someone with experience in summer weddings is the best way to help ensure you don't have a beauty disaster unfold, such as runny makeup, which can ruin your wedding photos. Hiring a professional hair and makeup team will have the experience and know-how on what to do to ensure your hair and makeup stays put. They will know what to do to help you continuously look your best in the heat.
#4 Time Your Photos Properly, and Go Indoors If Needed
Knowing when and where to take your wedding photos is crucial if you want to ensure they come out well. Depending on the weather that day, taking your pictures early in the day or later in the evening might give you cooler temperatures, so you and your wedding party aren't overheating. However, knowing the typical weather patterns ahead of time is necessary for this. If this isn't possible, consider going indoors for your wedding photos. This will allow everyone will be comfortable, which is needed if you want your wedding photos to look their best.
#5 Watch What You Wear
Getting married outside during the summer months means you will need to rethink what you wear that day. When you are looking for the perfect wedding dress, stay away from heavy fabrics. You don't want to wear a heavy wedding dress that will make you hot and weigh you down and can potentially make you experience the dreaded pit stain. Instead, look for a light, airy dress that can help keep you cool. There are plenty of summer wedding dresses out there that still look elegant but won't cause you to overheat.