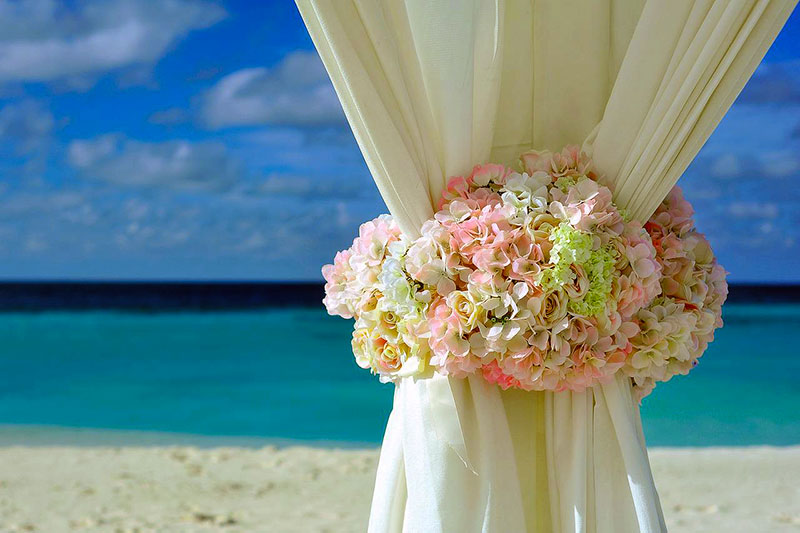 24 Apr

How to Have a Stress Free Beach Wedding

For many, a day at the beach is a tropical oasis. The sun shining on your skin, sand in your toes, and the calming sounds of the water surrounding you can make for a relaxing day. The beach is often known for being laid back, so it is no surprise that many couples choose to take their vows surrounded by surf and sand. However, planning a wedding isn't exactly a stress free event, even if you do decide to get married on the beach. Plus, getting married on the beach comes with its own set of unique challenges, which, if you aren't careful, can make you and your wedding guests miserable. However, it is possible to have a stress-free beach wedding with the proper know-how and preparation.
How Can I Plan a Stress Free Beach Wedding?
Offer Seating
When it comes to exchanging vows, it's not always short and sweet. No matter how long or short you plan your wedding ceremony to be, having a place to sit for your guests is crucial. Depending on where your ceremony is located on the beach, it might be a few minute walk, and for some of your guests, that could feel like a trek. Walking and even standing on the sand can be tiring, so you should have chairs, benches, or even waterproof ottomans available for your guests. Especially for your older and disabled guests.
Offer Shade
The last thing you want to go through at your wedding is having a guest develop heatstroke or have a difficult time due to the heat. Sitting or standing on the beach on a sunny day can be hot, especially after walking to your ceremony location. Having a shaded ceremony site is a must, especially for elderly and disabled guests. Plus, it's always nice for the bride and groom to have some shade as well. You want everyone to be comfortable, not miserable. Plus, it will make for better wedding photos. You don't want anyone to be miserable on your wedding day. Otherwise, it will reflect in your wedding photos. Also, having a covered beach wedding can help keep you and your wedding guests dry in case of rain.
Thoughtful Amenities
Setting up a station at your ceremony site is a great way to offer amenities to your guests to help keep everyone cool and comfortable. Offering thoughtful amenities such as sunscreen, insect repellant, fans, towels, and ways to stay hydrated can go a long way in keeping your guests comfortable and happy. You can even have a shoe station, so no one has to contend with sand in their shoes, and offer flip flops instead. Allowing your guests the choice to use the flip flops or to stay barefoot. Just make sure you have brushes available, so your guests can easily brush any sand off of them at the end of your beach ceremony. Also, including ponchos or umbrellas is never a bad idea if it rains.
Consider Audibility
When couples exchange their vows, it is vital to be heard, especially when you put time and effort into writing them. Depending on which beach you get married on and your proximity to the water, the water could drown you out. This needs to be thought of and considered when planning your beach wedding, especially if you are planning on getting married on an ocean beach and close to the water. While the sounds of the waves crashing to shore can be relaxing, you want to keep that as background noise and ensure that your wedding vows take center stage. So be sure to speak loud and clear, and use a microphone and speaker setup to ensure that your wedding guests can hear you loud and clear.
Watch What You Wear
Don't forget to include yourself when planning a stress-free wedding. The wedding couple needs to rethink how they dress, style their hair, and what style of shoes to wear (if any). Even makeup application needs to be thought of. Since you will likely not be in a controlled setting, you have the heat, sun, sand, water, and wind to contend with. You need to ensure you will be relaxed, cool, and comfortable during your wedding ceremony, so stay away from heavy gowns and tuxedos. Swept-up hairdos can help keep the hair out of your face on a windy day, and if you were planning on wearing a wedding veil, you would want to ditch anything long and flowing, or ditch it entirely and come up with another solution. You will also want to wear makeup that will not melt or run in the heat, otherwise, you risk ruining your wedding photos.