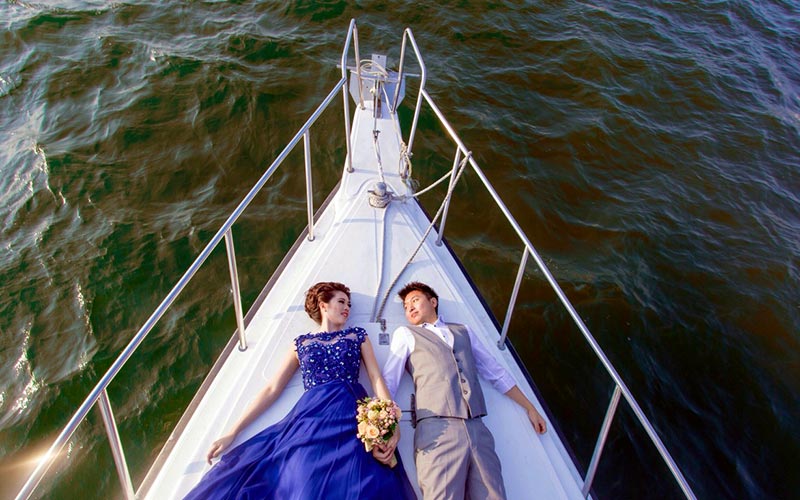 31 Mar

The Pros and Cons of Getting Married on a Yacht

One of the most significant decisions you will make after getting engaged is selecting a wedding venue. There are many different wedding venues to choose from in Turks and Caicos, and some of them are rather unique. Getting married on a yacht or boat is an option that is unique and not just reserved for the rich and famous. Getting married by or on the water can seem magical, and you are sure to have a beautiful backdrop for your wedding photos. However, getting married on a boat isn't for everyone, so check out the pros and cons of getting married on a yacht before you decide.
Getting Married on a Boat: Pros and Cons of Getting Married on a Yacht
Pros:
• Getting married on a boat in Turks and Caicos offers some fantastic backdrops and views, making for memorable wedding photos. Plus, being on a boat allows you to go to different places, all while your wedding is going on, making it easy to access islands and beaches that you can only access by water.
• It can be very convenient to have your wedding ceremony and reception at the same location. It saves on transportation costs for your guests and can help reduce stress since you don't have to worry about going from point A to point B. Getting married on a boat offers the convenience of having both the wedding ceremony and the reception at the same location.
• Some companies specialize in boat weddings, which can make it easier and cheaper for you to plan your wedding. Many yacht companies specialize in event planning and offer all-inclusive packages, having wedding planners to help you plan the wedding of your dreams. Having everything done in-house can help save you time, money, and stress.
• Getting married on a yacht can also double as your honeymoon after the wedding. Once your wedding party is complete, and after all of the guests leave, some companies allow you to transform your boat charter into a floating honeymoon vacation. Doing so can save you money and time since you wouldn't have to travel; the only traveling would be by boat if you choose to have the vessel visit different locations that can only be accessed by the sea.
Cons:
• Even though getting married on a boat can be cheaper, it isn't always the case. Numbers between companies can vary greatly, so do your homework, ask questions, and make sure you carefully look over the contract before making your final decision and signing off. Some companies will charge fuel and docking fees, on top of taxes and tips, so make sure you do your homework and know exactly what you are paying before you sign any contracts.
• If you want to have a large wedding, getting married on a yacht wouldn't be the right choice. Depending on the size of the vessel, boats often have limited space, so that means you would have to have a limited guest list to accommodate. Plus, for those who get seasick, getting married on the water might make them decline the invitation. However, if you are looking to have a small, intimate wedding, then this can be seen as a benefit.
• If the wedding yacht is all-inclusive, you may not have as much control as you like, which can be a turn-off for those who want to plan every aspect of their wedding. When you get married on a boat, the company may have its own vendors, such as a DJ, food, and entertainment vendors which could dictate the details for your wedding. Not having control over vendors can be a good thing if you have a laid-back approach, but for those who like to have control over the details, this could be a deal-breaker.