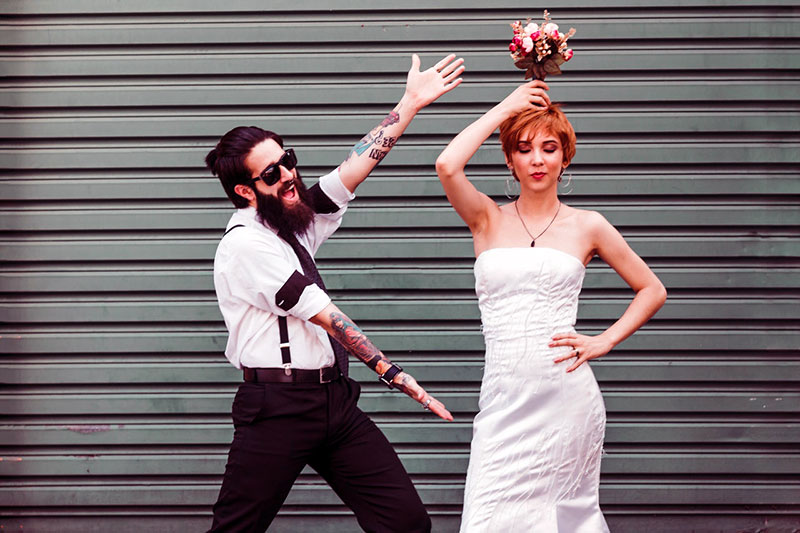 09 Dec

What to Wear for Your Engagement Photos

So you've recently become engaged, congratulations! Now it comes time to plan the wedding, which can be full of ups and downs, but many couples have a lot of fun when it comes to planning their engagement photos. Planning for your engagement photo shoot will likely be one of the first tasks you will complete with your significant other, and it's an important one since these will be the photos that will likely appear on your save-the-date notification, invitations, as well as the wedding website. After your wedding, these will be photographs to cherish for a lifetime, so these photos must come out picture-perfect.

Knowing what to wear for your engagement photos is crucial, and it can be stressful trying to decide what to wear. To help ensure your engagement photos come out beautiful, learn what and what not to wear for your engagement photo shoot.
What to Wear in Your Engagement Photos:
• Wearing clothes that complement each other is key. Wear solid prints, and look for complementary clothed outfits.
• Having a color scheme in place to tie everything together can translate well in your engagement photos. Incorporating the same hue can create a look of synergy without being overly "matchy."
• Wearing layers for the guys and the ladies, using at least one accessory item per outfit can add visual interest to your photographs.
• When it comes to outfits, think timeless and not what's currently trending. What is in now, you may regret later, so aim for the classic look that never goes out of style.
• Don't have too many different outfits. Having two or three outfits, tops, is more than enough to add some variety. You don't want your engagement photos to look like you are doing a fashion photoshoot.
What Not to Wear:
• Do not wear matching outfits and avoid patterned prints. Clothes that are too busy can be distracting, and you will more than likely regret this decision in time.
• Wearing clothes with apparent, large logos is a no-go. You don't want your photos to look like an advertisement for a brand, and it can become too visually distracting.
• Do not wear any outfit that is out of character. It is important to feel comfortable, so you want to wear clothes that are you, and not something that makes you look like a stranger.
• While you want to be comfortable, you don't want to be too comfortable and sloppy looking. While you don't need to wear a ball gown or tux, you don't want to be in athletic wear or PJ's either!
• Choose clothing that looks flattering on your body type and avoid too loose or tight-fitting clothes. Instead, make sure your clothes are tailored to you or have at least been tried on to ensure that they fit properly.