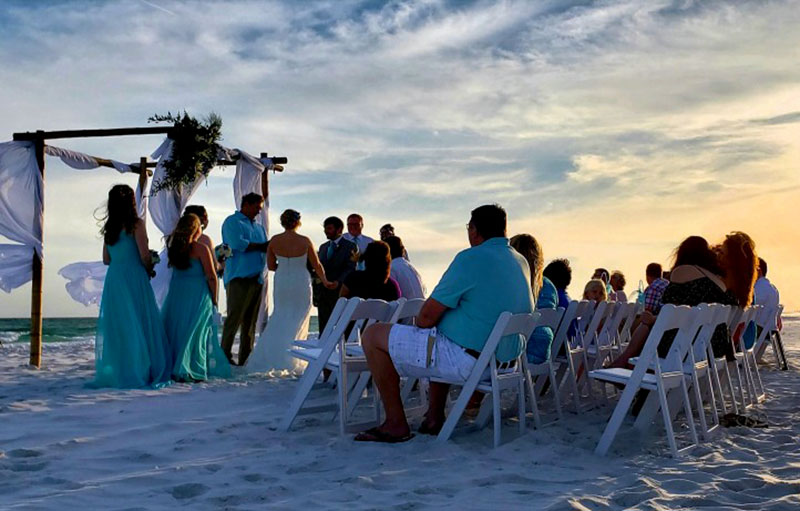 20 Nov

A Guide to Beach Wedding Attire for Guests

Having a beach wedding, especially in beautiful Turks and Caicos, is the dream for many engaged couples. There's nothing better than feeling sand in your toes while tying the knot, so it's understandable why so many couples opt for a beach wedding. But this dream doesn't come with its fair share of struggles. Planning a beach wedding offers its own set of unique challenges, even for its guests. Many may find themselves struggling to find what to wear since it's unlikely you will need to wear an evening gown or suit, but you still need to be appropriately dressed for the occasion. This can be tricky, especially since beach wedding attire for guests will vary depending on the wedding style and the venue.
Beach Wedding Attire for Guests: A Guide on What to Wear
• When the dress code is not known, it is always better to assume that there is a semi-formal dress code. While formal wear is not necessary, considering a semi-formal dress code is the better choice than wearing shorts or a sundress. It is always better to be slightly overdressed than underdressed.
• Footwear can be tricky, especially for females. Avoiding heels is important, as they can be challenging to walk in when on the sand. Instead, opt for a dressy-looking sandal that's flat and offers an open-toe. Closed-toe shoes can accumulate sand and can be hard to remove. For men, loafers can work, but if the beach wedding is on the formal side, opt for deck shoes.
• Beach wedding attire for guests can vary depending on the type of wedding. Some beach weddings may be an upscale event, while others may be casual. If you are unsure of the level of formality, check the wedding invitation and the wedding website (if available). If the information you need is not listed, then check with the bride and groom.
• Researching the weather is always a good idea, especially if the wedding is planned for the evening. Depending on the location, the beach can get cool at night or overwhelming hot during the day. Knowing the typical weather patterns can help you decide what you should wear and if you should bring extra layers or not.
• Typically, beach wedding attire includes lightweight, breathable fabrics, bright colors, and semi-formal accessories. For women, formal rompers, jumpsuits, mini and midi dresses are often an appropriate choice. For men, a button-down shirt and slacks are the typical beach wedding outfit, with the addition of a blazer or suit jacket for formal ceremonies.