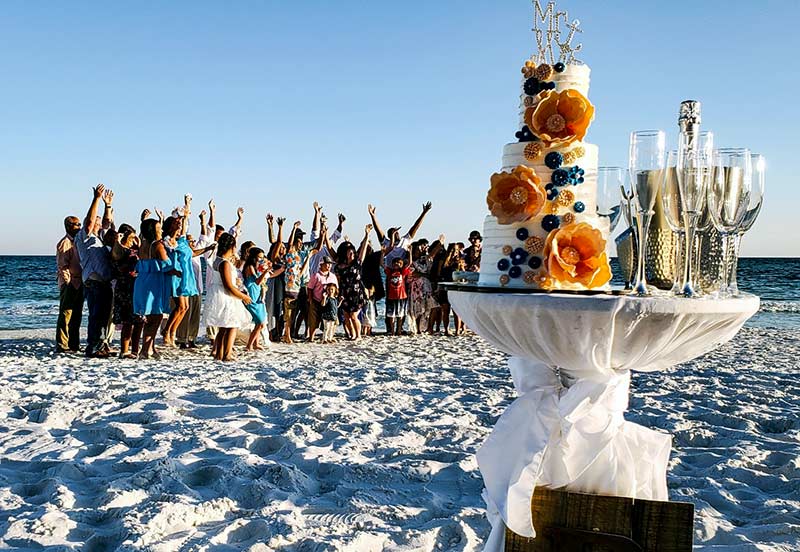 21 Sep

What are the Pros and Cons of a Beach Wedding?

Having a lovely and romantic backdrop for your wedding is vital, as your location can help set the mood and tone of your wedding day. Having a beach wedding is something that many consider during the wedding planning process, especially for those who love the outdoors and the water. Tying the knot on the beach can help compliment the love and romantic feel of a wedding, leaving you and your guests in awe. Plus, it's a surefire way to ensure that your big day is a day to remember forever. For many, there's nothing better than feeling the sand in between your toes, all while hearing the ocean waves crash upon the shore. However, even though you might be a fan of nature and the great outdoors, you may still have some reservations about having a beach wedding. But knowing and understanding the pros and cons of a beach wedding can help you make an informed decision.

Still on the fence about whether or not you should tie the knot on the beach? Then learn more about the pros and cons of a beach wedding to help you decide what's best for you on your wedding day.
The Pros of a Beach Wedding
• When it comes to your big day, you deserve to feel relaxed, and having a wedding on the beach is the perfect way to ensure a laid-back vibe. If you want to have an informal wedding, then having a beach wedding is something to think about.
• The beach, especially the ones in Turks and Caicos, makes for the perfect backdrop for your wedding photos. The scenery alone can help add that something extra to your wedding photos, making for gorgeous photos that you will cherish forever.
• With all of the natural beauty present, the need for decorations is diminished, making it a bit easier to plan and can help save you money. Using natural elements like flowers can help keep it simple yet beautiful and romantic if decorations are used.
The Cons of a Beach Wedding
• Unfortunately, when you are planning a wedding there is no way to know what the weather will be like that day. Unless you are a psychic or are planning a last-second wedding, there is no way to know ahead of time what the weather may look like. Even looking at past weather patterns doesn't give you a definitive answer, so be sure to develop a plan B in case of inclement weather.
• The typical beach elements can pose a problem on your wedding day. Sand can get unbearably hot when the temperatures are high, making it difficult to walk on. So if you plan on getting married during the dog days of summer, this needs to be taken into account. Also, you need to pay attention to the tides so your wedding is not getting washed away (essentially). Also, if you plan on having food out, you may want to think twice. Seagulls are masters at stealing food and can pose a problem if you plan on having food around.
• Not everyone likes the beach, and for those with disability issues holding a wedding on a beach can pose a significant problem. If you are having a beach wedding, it can make it difficult for those with mobility limitations. Also, if any of your guests (and those who are in your wedding party) absolutely despise the beach, you may want to think twice. It is also essential to have a wedding that is comfortable and accessible for everyone.
If you are thinking about having a beach wedding, there is no better place than having your ceremony on the beautiful islands of Turks and Caicos. Here at Mermaid Photography, we can capture your wedding, ensuring you will have memories that will last a lifetime. Contact us today for more information and a complimentary consultation.