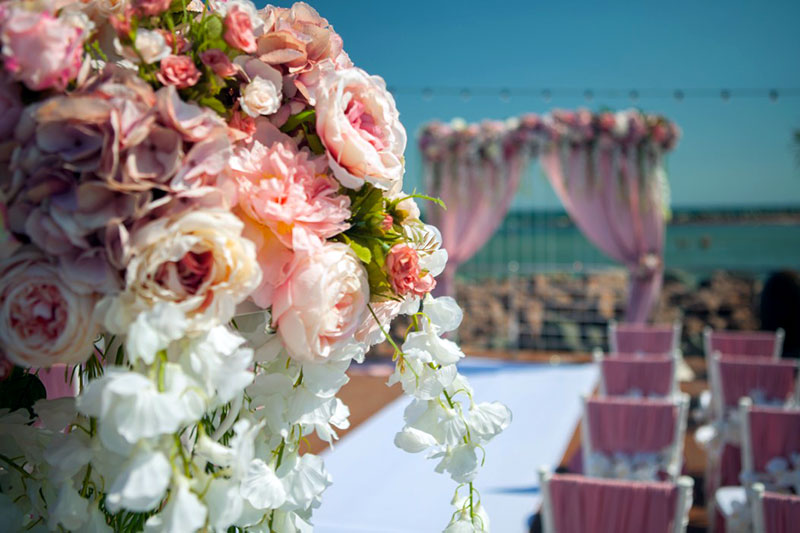 31 May

Summer Beach Wedding Floral Color Ideas

Your wedding bouquet plays an important role when it comes to the aesthetics of your summer wedding. Getting married during the warmer months gives you a lot of room to play with color schemes and themes, which can easily translate to your wedding bouquet. Your wedding bouquet should match the theme of your wedding, color scheme and all, as it helps tie everything together. Your choice of floral colors shouldn't be a choice to take lightly, and a lot of thought should be put into the aesthetics of your summer wedding bouquet. However, when it comes to summer wedding flower colors, there is a lot to choose from.

Having the perfect summer wedding bouquet is important. To help you consider all of your options before you tie the knot, check out some of the best summer wedding flower colors that you can choose from.

Shades of Pink: A classic choice, pink is both elegant and feminine and is a color that screams summer. There are many shades of pink to play with and to choose from, all of which can make the perfect summer beach floral bouquet.

Blue and Green: Using these sea-inspired colors can help tie your beach wedding together. There's something to be said about the natural beauty of these colors, and the use of green and color complement your oceanside wedding, as they perfectly reflect the land and ocean.

Blue and White: This classic color combination screams nautical and can really set the tone for your summer beach wedding. Blue and white make one think of the summer sky and the ocean and offers a cool and crisp look, making for the perfect combination for your summer wedding.

Green and White: If you are looking for a simple yet elegant color scheme, going with white and green is a good way to go. Combining the colors of purity and life, green and white, will make the perfect color scheme for your beach wedding and is an excellent way to enhance the beauty of your wedding day.

Peach, Green, Teal, and White: While combining more than two colors can be risky, this color combination screams summer and will give you a lot of wiggle room. This color scheme also goes well for your wedding floral arrangements and décor, as it's easy and pleasing to the eyes, creating the perfect setting for your beach wedding.

Green, Coral, and Yellow: These vivid colors are beautiful solo, especially when paired together. Green makes for an excellent accent color, while coral and yellow will give your beach wedding a bright look. The combination of these three colors looks very tropical, making the perfect color combination for any beach ceremony.