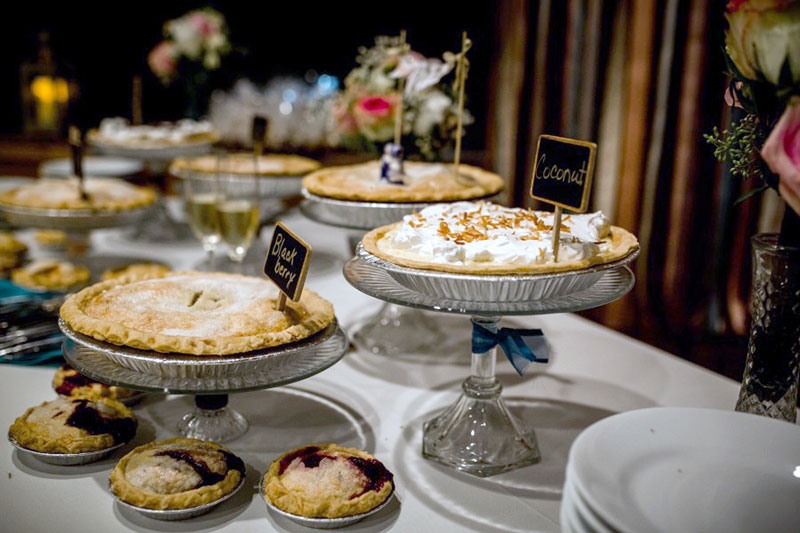 24 Apr

Make Your Own Tradition: Alternative Wedding Desserts

Here's a thought, you don't have a wedding cake at your wedding, or maybe you do, but it's not your main focal point. While the typical tradition is to serve wedding cake, it can be good to step outside the mold and do something different and offer something different. While it's a general consensus that having something to satisfy a person's sweet tooth is necessary, especially at a wedding, it doesn't have to be just cake for dessert. If you are looking to go beyond the traditional, check out what other delicious alternative wedding desserts you can serve.

Pastries: If your wedding happens to be during the day and not in the evening, then offering pastries, especially breakfast pastries, can be a huge hit. Croissants come in many different varieties, as well as muffins and scones. Donuts are another choice that many love and adore. Plus, there are always waffles, and offering a station where a person can make fresh waffles and add their choice of sweet toppings is sure to be a hit.

Pie: Probably one of the best alternative wedding desserts you can serve. Who doesn't like pie? Plus, pie comes in many different varieties, so you are bound to offer one that a person adores. Depending on your budget, you might want to offer mini pies or have pies that can be cut into slices. Either way, serving pie over cake can offer you and your guests a bit of variety and choice. Just don't forget the ice cream! Pie and a scoop of ice cream are sure to hit the spot.

Ice Cream: To go along with a person's pie, or even as a standalone, offering an ice cream sundae bar is another excellent option. There are many choices for ice cream, plus it can be easy to get varieties of different ice cream and ice cream substitutes to accommodate those with diet restrictions and allergies. Besides offering a variety of flavors, you can also provide various toppings, which can allow your guests to satisfy their sweet tooth in multiple ways. Plus, who doesn't love a hot fudge sundae?

Cake Pops: If you love cake, but don't like the idea of having just one as a focal point, then offering cake pops can be a fun, creative, and delicious wedding dessert. They can be designed in various ways and allow you to offer additional flavors to your guests. A traditional wedding cake only offers whatever it is you decided on, which is typically one flavor. Plus, it's easier to eat a cake pop on the dance floor or while you are mingling with the other guests.

Candy Bar: Sometimes, after you eat, it can be challenging to squeeze in dessert. While giving yourself time to digest before dessert, depending on the timing, it may be difficult for some of your guests to enjoy dessert at the wedding. Offering a candy bar is a sweet way to accommodate those who have small appetites or have to leave the party before it ends. Candy bars can be simple or intricate and are often more affordable than wedding cakes. Plus, providing your guests with baggies so they can make their own mixture they can take home with them might make the candy bar one of the best alternative wedding desserts you can offer. If you want, this can even suffice as a wedding favor for your guests.