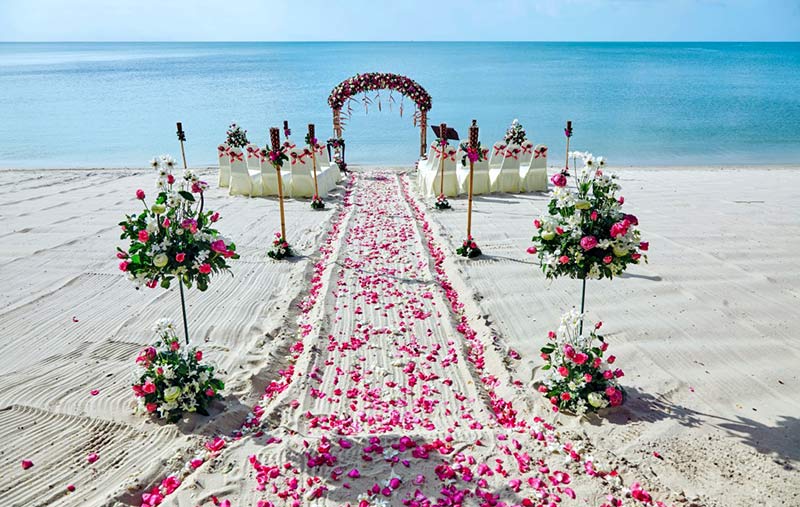 14 Feb

Planning a Beach Wedding? 5 Things to Consider

Planning a beach wedding often brings with it a range of emotions. While it's exciting that you are planning a celebration that can change your life for the better, it can also be a daunting task. Preparing for a wedding consists of many small details, and if you leave one out, it can make your big day memorable for all of the wrong reasons. While everyone dreams of having a destination wedding on the beach, doing so can seem even more daunting than planning a traditional wedding. However, planning a beach wedding is definitely not traditional, which means there are things to consider if you want to have the perfect beach wedding.

There's nothing better than getting married out in Mother Nature, with the sounds of the sea playing in the background. Plus, think about your wedding pictures! There is no better backdrop if you want to have memorable wedding photos. However, to help ensure you have all of your ducks in a row for when you tie the knot, learn more about what to consider when planning a beach wedding.
1. Find out in advance if your wedding is going to be public or private. If you don't want any outsiders or unwanted surprises on your big day, find out in advance if your beach wedding will be held in private or if you will need to share the beach with others. Also, while you are at it, obtain a permit if needed. There might be paperwork to fill out if you want to have your wedding ceremony on the beach.
2. Give your guests plenty of notice, and make sure the invitations clearly state that you are tying the knot on the beach. You want to give your guests plenty of time to plan, especially if they will need to travel and take off from work. Plus, knowing that the wedding will be on the beach ahead of time will allow your guests to dress appropriately and plan accordingly.
3. The wind can feel nice on a hot day, but when you are holding a wedding, the wind can put a damper on your day if you don't think ahead. If you plan on having your beach wedding in a windy location, avoid using lavish flowers, candles, balloons, and ribbons, which could get blown away. Instead, opt for sturdy décor and non-breakable items. If you decide to have décor that could easily blow away, take the proper precautions ahead of time to help secure things that could break or topple over.
4. You want to look good for your wedding photos, that's a given, but many overlook common summertime skin problems such as sunburn and tan lines, which can make for some funky pictures. Before your wedding, it is best to stay out of the sun as much as possible to minimize your chances of developing tan lines and/or becoming a lobster. If you want to have a golden tan look for your wedding photos, opt to have a spray tan done by a professional.
5. While you may love the idea of wearing heels, heels and sand do not mix. If you plan to walk down the aisle on the beach (on the sand), it would be a good idea to ditch the heels and instead opt for flat-soled sandals or wedges. Going barefoot is also an option, but watch out for hot sand! You don't want to look uncomfortable in your wedding photographs. Whatever you choose, do so before the wedding so you can get your dressed properly hemmed to accommodate your choice of footwear.