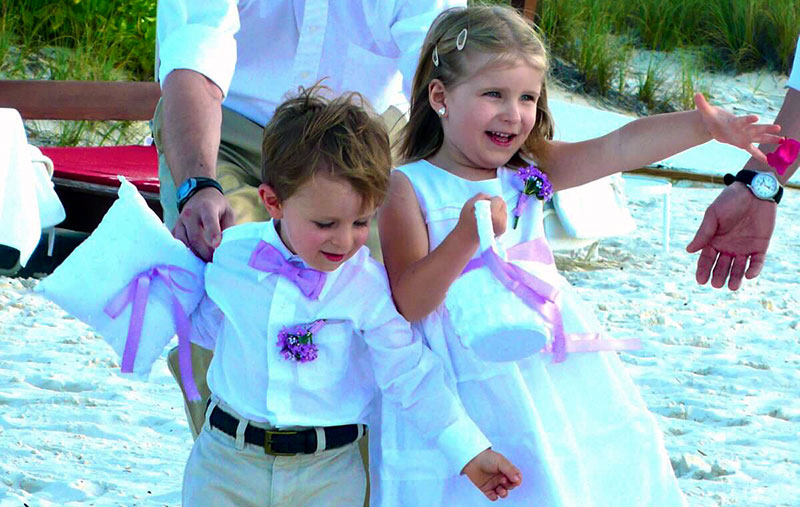 31 Jan

Wedding Flowers and Florists in Turks and Caicos

Flowers are an essential part of any wedding, and when you are hosting your dream destination wedding, this aspect requires a bit more planning. Typically, wedding flowers in Turks and Caicos are imported, so it's necessary that you make your flower choices and arrangements well in advance to ensure you will have what you need for the big day. If you do not use local flowers, your wedding planner or florist will need to have advanced notification since live flowers will have to be shipped or flown to Turks and Caicos. However, some couples do choose to use local flowers for their Turks and Caicos destination wedding.

While it's typically not feasible to use endemic flowers since many are considered endangered and rare, many of the locally-grown flowers commonly used in landscaping can be used. Some of the locally-grown wedding flowers in Turks and Caicos include:
• Frangipani (also known as a plumeria) – Flowers can be pink, white, yellow, or multi-color
• White lilies
• Bougainvillea -Flowers can be salmon, pink, white, purple, or peach
• Yellow elder
• Beach morning glory – White flowers
• Hibiscus – Comes in shades of pink, red, yellow, and multicolor
• Royal Poinciana – Scarlet to orange flowers
• Plumbago – Sky blue flowers
When purchasing wedding flowers for your destination wedding, it is imperative to consider the time between your wedding and your reception, since intense heat and sun can make flowers wilt. Due to this, using a local wedding planner or florist is recommended, as they will have the experience necessary to ensure your wedding flowers look perfect for your wedding day. If you are looking for wedding flowers for your destination wedding, then check out these local wedding florists and wedding planners!
Flowers by EA – Located on Grace Bay Road in Providenciales
Flower Girl – Located on Leeward Highway in Providenciales
Nila Destinations – The original wedding planners in Turks and Caicos