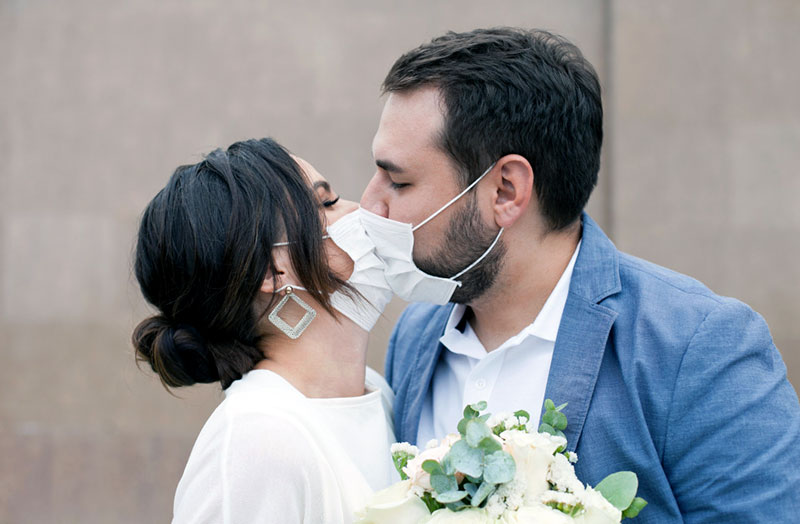 30 Dec

How to Make Your Bridal Makeup Last Under a Mask

Wearing a face mask has become the new normal and is mandatory in many places. Even in areas where wearing a mask isn't strictly enforced, many are still choosing to wear a face mask to help curb the spread of the virus. However, for your wedding, wearing makeup under your face mask can pose a problem. Sweat and friction can smudge your makeup unless, of course, you learn how to mask-proof your bridal makeup.

Looking for ways to keep your bridal makeup fresh and in-place throughout your big day? To help you look and feel your best on your wedding days, here are some ways you can mask-proof your bridal makeup.
• Getting the right mask is critical, but there is no correct answer for everyone. Trying on face masks first is recommended. You want to pick a face mask that is comfortable to wear and interferes the least with your breathing. If you have to breathe heavily because your mask is not breathable, you will be more likely to affect your makeup.
• While you may desire to have a glowy, dewy look, the moisture will make it impossible to maintain your makeup while wearing a face mask. It wouldn't take much for your makeup to transfer to your facemask and smudge your makeup. Instead, opt for a matte concealer and foundation, and powder the areas that are frequently touched by the mask.
• Even if you go matte, moisture will be hard to avoid since you are wearing a face mask. So be sure to use a primer to "prime" your skin before you apply your choice of foundation to help make your makeup last longer. Once your makeup is complete, 'set' it with setting spray to help prevent your makeup from transferring onto your face mask.
• Remember, less is more, and many find the natural look beautiful. Using fewer makeup products on your face will not only last longer, but it will also look better with a face mask. You don't want different shades of your makeup getting on your mask and being visible for everyone to see on your wedding day. Plus, limiting the products you use and focusing on the basics will help limit or negate having to touch-up your makeup.
• Unfortunately, traditional lip gloss and lipsticks don't fare well when it comes to wearing a face mask. Instead, opt for liquid lipstick, lip stains, tinted lip balms, or fill in your lips with a lip pencil. If you can't live without lipstick, pick a matte lipstick that is smudge-proof, so it doesn't transfer onto your face mask or get smudged every time you remove your mask. However, if you have that shade that you absolutely can't live without, seal it by applying loose setting powder over the lipstick to help it stay put.