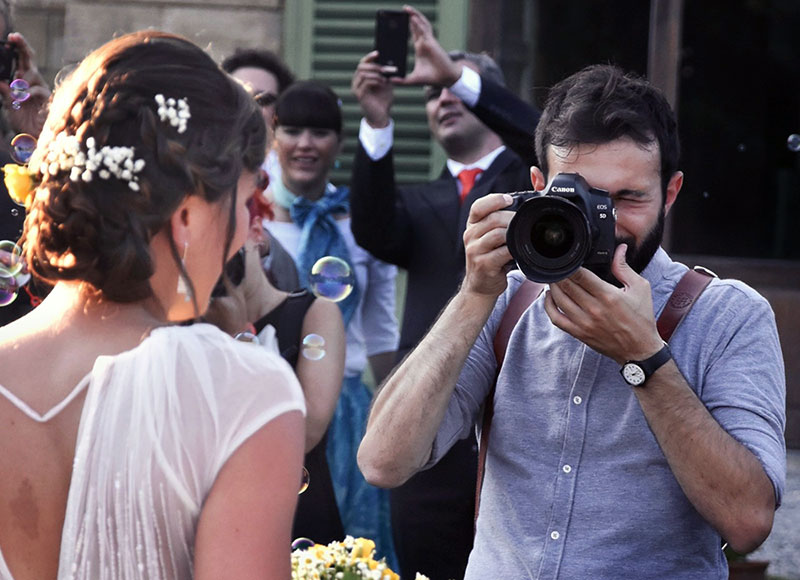 21 Dec

How to Feel Comfortable in Front of Your Wedding Photographer

Feeling at ease in front of the camera is necessary if you are looking to take good photos. When it comes to your wedding day photographs, it is imperative that you are comfortable with your wedding photographer and being in front of the camera. You want this day to be remembered forever, so it is important to have the end result looking natural and beautiful. When a person is not comfortable, this will reflect in the picture quality, and who wants to see that when they are looking back at their wedding photos? Your wedding day should be one of the happiest moments of your life, so it is important to find a photographer whose personality clicks with yours. This is especially important if you are not quite comfortable with being in front of the camera. Finding a photographer that clicks with you can help reduce some of the pressure you may feel.

Find out how you can feel comfortable with your wedding photographer so you can look and feel your best in front of the camera!
• When you are searching for a wedding photographer, be sure to see if they have an "about" page on their website and thoroughly read reviews (if available). Learning more about a prospective photographer can help narrow down your choices. Reading more about their education, experience, and shooting styles can help you get a feel for a photographer. Reading reviews is also highly insightful into a wedding photographer's personality and shooting style, so be sure to do your homework.
• Learning about a prospective wedding photographer and reading more about what to expect when you are taking photos on your wedding day can help you formulate questions to ask to help narrow down your search even more. Speaking to a prospective wedding photographer in person or via email or phone can help you find out more about them, and having some questions formulated prior can help you figure out if the photographer is a good fit or not. Sometimes in the moment, we can forget to bring up key points, so preparation is key. Finding the right match for your preferences and personality style is important, so make sure you prepare questions ahead of time.
• Once you commit to a wedding photographer, schedule an engagement shoot to get to know them and so you can get comfortable with them before the big day. Plus, it can help you get used to being in front of the camera and get an idea of how they will pose you. Think of it as a trial run or as a practice, and use this time to have fun and get used to your photographer. Doing an engagement session can also give you another avenue to ask questions and work out any kinks. After the session, talk to your photographer about your favorite photos from the shoot and why. Use this time to communicate any desires or concerns you have to help ensure you get a final product that perfectly reflects your wedding day.
• If you feel stressed and overwhelmed about coordinating all of the needed details for a wedding, look into hiring a wedding planner. Hiring a professional can help you save money, time, and additional stress. Planning a wedding is a big task, and many details could potentially be looked over. However, hiring a professional can help ensure you have every tiny detail covered, offer helpful suggestions (they do this for a living!), save you money in the long run, and help lower your stress levels. Lowered stress levels can help ensure that you are relaxed for your engagement and wedding photos, translating into better photos.
At Mermaid Pictures and Printing, we specialize in capturing the love on your special day. If you are looking for a professional and experienced wedding photographer, contact us today!