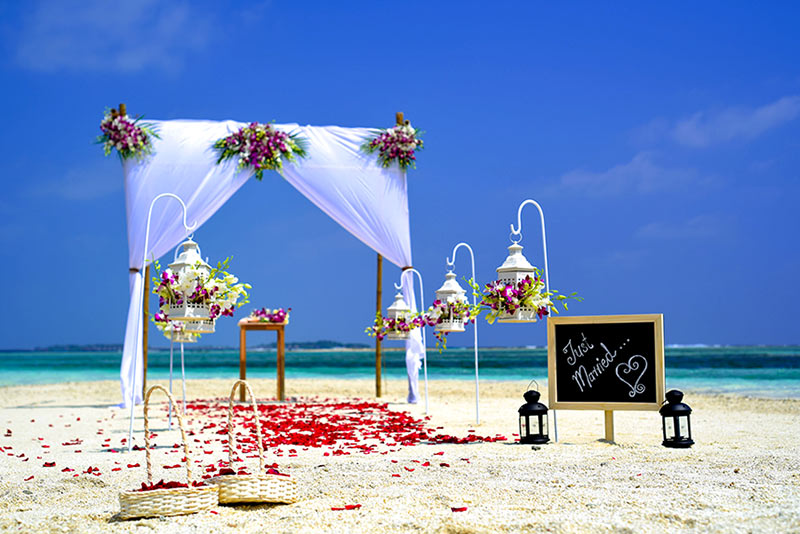 12 Oct

Destination Wedding Tips: 4 Things to Consider When Planning a Destination Wedding

If you are looking to have an intimate wedding, and a way to combine your wedding and honeymoon, then planning a destination wedding may be an option to consider. Many dream to get married in another state, or even out of the country. Some aspire to get married on a beautiful tropical island, so if this is the case, having a destination wedding can help turn your dreams into reality. However, putting together a wedding out of town requires proper planning and budgeting, and comes with its own set of challenges. But, with the correct know-how (following our destination wedding tips), having the wedding of your dreams is possible.

If you are planning a destination wedding, there are some things you need to consider and be aware of. Planning a non-local wedding requires a different logistics set versus a "traditional" wedding held in your local area. To help you plan your dream wedding, check out these helpful destination wedding tips.

1. If you have the means, visit your choice of destination before the wedding to see the venue in person, meet with your vendors, finalize details, see potential hotels, have tastings with the caterer, and do a hair and makeup trial. Plus, it's always good to put a face to a name and see what the venue or resort looks like in person. Seeing photographs online can be deceiving

2. When it comes to planning a destination wedding, planning your big day early is a must! Not only will you have a lot to handle, but you also need to think of your guests. You want to give your guests time to budget their finances and get time off. Many details go into planning a destination wedding, so you want to give yourself time to get everything together. It's easy to miss details and overlook things when you are rushing, so plan early.

3. If you are planning a destination wedding, then finding and hiring a destination wedding planner can help you streamline the process so that you can make the most of your big day. A good wedding planner can help coordinate your wedding for you and your guests, arrange catering, find and hire local vendors, handle legal paperwork, and can help you make the most of your budget. Plus, a good destination wedding planner will have insider knowledge and know the area-something you can't get from research alone. If you want your wedding to be memorable for all of the right reasons, hire a wedding planner.

4. Your choice of photographer is crucial, so don't be a penny pincher when it comes time to choosing your wedding photographer. Your wedding photos can last a lifetime, while the memories may not, so having professional quality photographs is an aspect you don't want to overlook. You don't want to look back years later and see sub-par photos that are of low quality and don't capture the essence and magic of your wedding day. If you are looking for a professional wedding destination photographer in Miami or Turks and Caicos, contact us to schedule a no-obligation consultation today!