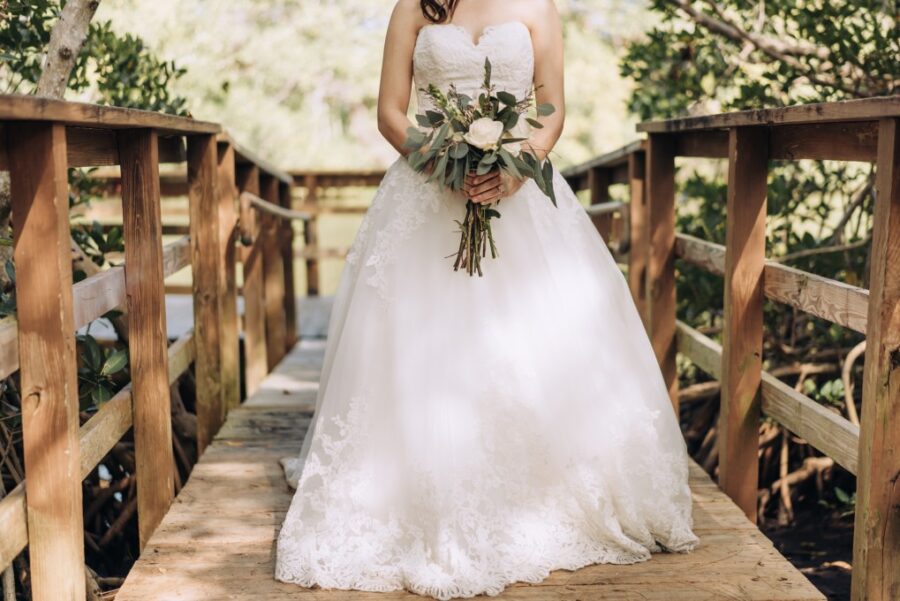 29 Oct

Picking a Bouquet that Complements Your Wedding Dress

As a bride-to-be, you've probably thought of everything when it comes to your big day-your guest list, the décor, makeup, hair, decorations, and of course, your wedding dress. However, there is one aspect that many brides-to-be often overlook, and that's how their wedding bouquet complements or matches your dress. You want your bouquet to add to your overall look, helping to put it together without taking too much attention away from your wedding dress, so it's important to find the best bouquet for your wedding dress.

Finding the perfect wedding dress can be difficult, but it is important that you have this step checked off before you pick your bridal bouquet. Both elements need to go together, so check out our helpful guide that can help you pick out the best bouquet for your wedding dress.

• Wearing a trumpet dress? Then compliment this style of dress with a cascade bouquet, or keep it simple by carrying one long-stemmed flower.

• Going with a classic sheath dress? A beautiful dress style that is sure to accentuate your curves, carrying an "untamed" flower bouquet complements this type of wedding dress best.

• If you want to look like a princess and plan on wearing an elegant ball gown on your wedding day, then you should balance it out by carrying a cascade or crescent bouquet.

• Another popular wedding dress is an A-line dress. A timeless choice, this dress is delicate and feminine, so balance out the long lines of this dress by choosing a classic, round style bouquet.

• Planning a casual wedding, so you have opted for a mini dress or a tea-length gown? Then go for a simple bouquet and on the smaller side. Hand-tied bouquets are always an excellent choice!

• An adaptable dress that can go with just about any floral design is the drop waist gown. It's the perfect dress for both classic and modern floral arrangements.

• Having an untraditional wedding and you've decided to ditch the idea of wearing a traditional dress? Wearing a pantsuit or jumpsuit means you can go for a cascade or a crescent bouquet. You can even add some color by adding some tropical flowers into your structured bouquet.