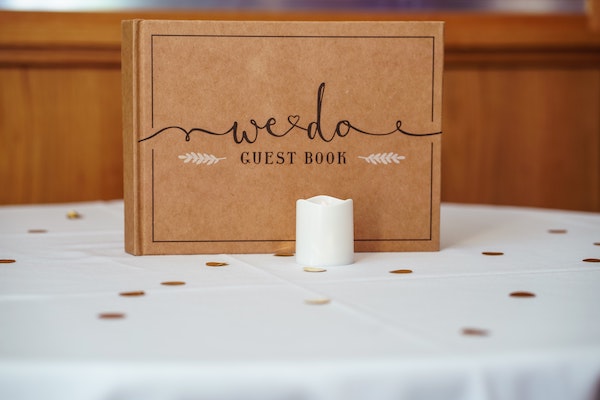 17 Mar

Wedding Guest Book Ideas: Options To Spice Up Your Wedding

Sick of old wedding traditions? Want to spice it up a little bit? With so many elements to take care of in the planning process, you may completely forget to customize the details of your wedding and make it uniquely yours. Here are some awesome wedding guest book ideas and alternatives to help make your wedding special and memorable.
Wedding Guest Book Ideas
Voice memos: There's something sweet and sentimental about listening to a loved one's voice when they're not around you. What's better is hearing their voice echo well wishes while you're far away on your honeymoon. Instead of giving your guests a book to write in, leave them with an audio recording device so they can leave you a memorable note. 
Piñata: Nothing says party like a piñata. If you want to shake things up a bit, replace your guestbook with a bunch of mini note cards for your guests to write on. Once they're done, they can stuff the Piñata with their blessings and congratulations. Fun bonus idea: Save the piñata opening for your first wedding anniversary. Reading the notes a year later will transport you back in time to your unforgettable wedding day. 
Decorative frame: If you want a relic from your wedding that isn't a photograph or your wedding dress, try turning your guestbook into a decorative frame that you can later hang up in your living room or bedroom. 
Typewriter: If you're shooting for a vintage vibe, you can never go wrong with a typewriter. They're cute, decorative, and classy. Have your guests click some keys and write you a note that'll last a lifetime. 
Replace with a bucket list: Seeking adventure? Turn your guest book into a bucket list for you and your spouse. Later on, when you fulfill these bucket list items, you can thank your friends and family for the memories and great ideas. You can also use this idea to gather inspiration for a honeymoon "must-do" or bucket list.
Take a polaroid: Depending on the party size, it can be hard to remember everyone who attended your special day. Allow your attendees to make their mark by swapping out your guest book for a polaroid and a Sharpie. Once your guests take a selfie, they can write a quick message on the back of their portrait. That way, you can easily link the sweet messages you receive to the proper person without getting too confused. Big plus: Everyone loves polaroid pictures. 
Question cards: Question cards are fun, interactive, and pretty unexpected. They can also get pretty sentimental if you ask the right questions.
Try out cards that ask: 
What's your fondest memory with the bride/groom?

What's your favorite thing about the bride/groom?

If you could give the bride/groom one piece of advice, what would it be?
You may be surprised by the answers you get!
The professional wedding photographers at Mermaid Pictures and Printing are wedding photographer experts. Contact us today and let us capture the beauty of your wedding with stunning photos you'll cherish for years to come.