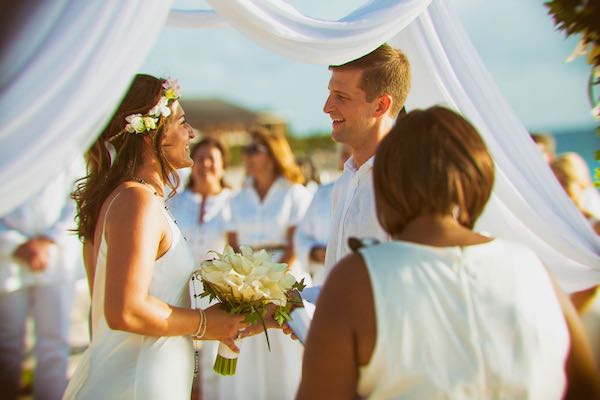 25 Mar

How To: Prep and Plan an Outdoor Wedding

Outdoor weddings are beautiful, but planning one is no easy task. Sure the process is stressful, but scenic and sunny outdoor weddings are well worth the countless hours of planning. With that said, there are tons of details brides and grooms overlook and forget to consider when choosing an outdoor venue. Here are some things you need to contemplate while you plan an outdoor wedding. 
How To Prep and Plan an Outdoor Wedding
Reception Dress Change: If possible, try and incorporate a dress change into your wedding day wardrobe. Wedding dresses can get increasingly hot and uncomfortable when worn for long periods of time. You may feel even more uncomfortable outside and exposed to varying elements. After your ceremony, aim for a fun, airy dress that allows you to dance and enjoy the rest of your wedding day with ease.
Rental Restrooms: Depending on your wedding venue, you may need to rent a restroom for your guests. Portable restrooms are helpful for beach weddings or receptions that take place far away from anything indoors. You don't want your guests to have to walk half a mile to the nearest bathroom, especially if it's too hot, cold, or raining. 
Follow Up With A Rain Check: Consider reading up on your vendors' cancellation and weather policies. Some rental companies do not allow their furniture to be set up in certain weather conditions to avoid property damage. If you're going to invest in a wedding vendor, make sure they're a good fit for your outdoor space.
Fight the Bugs: There's nothing more unappealing than a bunch of bugs hovering over you on a summer night. You may want to light some candles to combat this. You can also decorate your wedding grounds with torches to keep the bugs away from you and your guests. 
Tents: Tents are great for outdoor weddings because they provide shelter from the weather and harsh sun. However, a lot of people fail to think this one through. Before renting a tent, make sure it works with the surface you've booked.  Whether your wedding takes place on grass, sand, or concrete, the tent has to work with the surface area. This may get pretty awkward on your wedding day when you realize the tent you booked isn't exactly fit for a sandy beach wedding. 
Work With the Weather: This point is more obvious, but you need to keep your guests comfortable and happy throughout your wedding. This means providing shelter away from the sun (or cold) and providing portable air conditioners/heaters for your guests. If you're hosting a sunny, outdoor wedding, make sure to stock up on beverages besides alcohol that will keep your guests hydrated and refreshed throughout the reception.
The professional wedding photographers at Mermaid Pictures and Printing are wedding photographer experts. Contact us today and let us capture the beauty of your wedding with stunning photos you'll cherish for years to come.