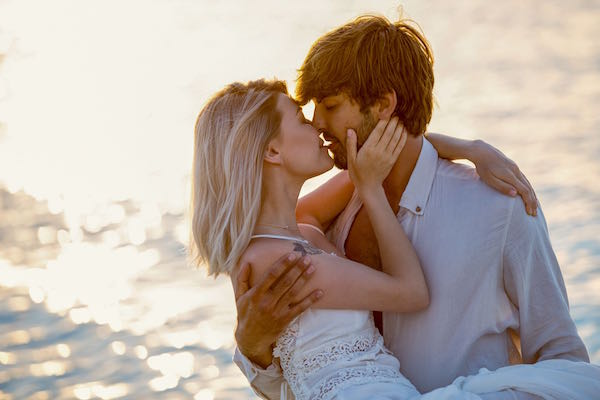 31 Jan

How to Prepare for a Beach Wedding

Beach weddings are undeniably sweet, elegant and beautiful. However, you have to be prepared before saying "I do" on the sunny shores. Here's how to prepare for a beach wedding.
How to Prepare for a Beach Wedding
Leave the veil at home: You may want to reconsider wearing a veil if you're getting married on the beach. Why? Well for starters, you don't want to ruin your veil by dragging it through the sand. We also can't promise you're going to love your wedding pictures with a giant veil flopping around in the wind. Ditch the veil and add some cute accessories to your hair. 
Which brings us to our next tip…
Hair built to last: Prepare for the beachy breeze and choose a hairstyle that'll withstand the windy weather. A sturdy updo will hold your locks in place and keep you from worrying about touch-ups/fixing your hair throughout the day. If an updo isn't your thing, try loose beachy waves that won't get too tangled and messy. You want a hairstyle that will withstand the wind but also look stunning in your wedding photos. 
Beach bathroom: It's important you and your guests have a bathroom nearby, especially since you'll be taking pictures throughout the day. With the beach breeze in full effect, having a bathroom to touch up your hair and makeup is essential. You can actually rent a beach bathroom if your venue doesn't have one already.
Choose your dress wisely: It's crucial you make sure your dress is beach-proof. Opt for a more relaxed fit that flows nicely with your wedding's beach theme. Consider a dress that's easy to move in since you'll be navigating through wind and sand all day. 
Timing is everything: Although sunsets are always stunning, you don't want your beach wedding to take place too late in the day. If you host your wedding after hours, you may not have enough light to capture all your wedding memories before the sun goes down. This can negatively impact the outcome of your wedding photos, especially since the wedding is taking place outside.
Barefoot or bust: It doesn't make much sense to walk down the aisle while sinking into the sand. Ditch the heels and choose flat footwear that's both cute and walkable. If you can't find the footwear you absolutely love, you can always break tradition and walk down the aisle barefoot. Just make sure you roll out a fabric aisle runner so you don't burn your feet on the sand!