03 Oct

Beach Wedding Hairstyles: Our Top Picks This Season

Although beach weddings are scenic, peaceful and unforgettable, perfecting beach wedding hairstyles can be a hassle. From beating the breeze to fighting off humidity, you're going to need an elegant hairstyle that can tackle it all.
Beach Wedding Hairstyles
Here are some of our favorite hairstyles from the beach brides of Mermaid Pictures & Printing.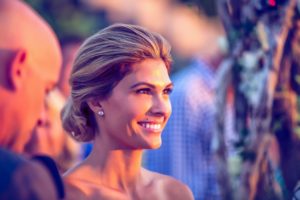 Voluminous Low Bun
This voluminous low bun is chic but simple and worry-free. This hairstyle keeps your locks swept away from your face, allowing your glowing smile to become the focal point. Since your hair is fully secured on the nape of your neck, you won't have to worry about your hair blowing in the beach breeze in any of your wedding pictures. 

Clean Side Braid
You won't have to think twice about the day's humidity with this neat side braid. With your hair pulled to the side, everyone will be able to see your stunning wedding makeup and genuine smile on your special day. Even though your braid may loosen by the end of the night, it'll have a tossed, beachy look that'll fit perfectly with your wedding's aesthetic. 

Pulled-Back Waves with Accessory 
This pulled-back loose wedding wave is the perfect hairstyle for the beach. It's hard for the wind to ruin your hair when your hair is effortlessly tossed. The side bobby pins secure your hair from whirling around in the wind so you can get those perfect wedding pictures on the beach. Adding a flower accessory is a great way to bring out the tropical vibe in your beach wedding. 

Effortless Beach Bun
Loose and carefree yet still refined and polished, this hairstyle is for the lively brides who want to have a good time. While this hairstyle can withstand the beach, it can also withstand the dance floor. If you want a stress-free hairstyle, this effortless beach bun is the way to go. 

High Bun with Accessory
High buns are perfect for achieving volume while also showing off your stylish jewelry. You can even loosen a few strands of hair to lightly frame your face. If you want to liven up your hair design, throw in a beachy flower to compliment your freeing, beachy look. 

Long Fishtail Braid
If you have sleek long hair and want to keep it casual, consider this wispy side fishtail braid. Fishtail braids are fairly simple and keep your hair intact for as long as you need it. You can even loosen some of the braids for a more relaxed look. What's better? The beach humidity is no match for this fishtail braid. 

Curled Low Bun
Spice up your regular low bun with a few cute curls that lay gently on the back of your neck. This kind of sophisticated hairstyle looks amazing in the wedding photos that you will look back on for the rest of your life. This look also lets you show off your favorite wedding jewelry. 
The professional wedding photographers at Mermaid Pictures and Printing are wedding photographer experts. Contact us today and let us capture the beauty of your wedding with stunning photos you'll cherish for years to come.
All images are the property of Mermaid Pictures & Printing.