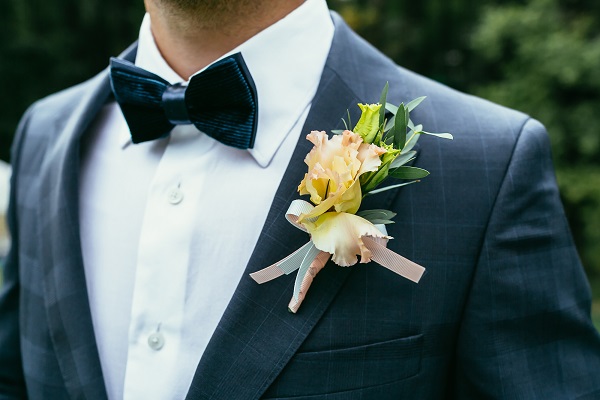 26 Mar

What to Gift Your Groom on Your Wedding Day

Your wedding day is quickly approaching and everything is planned and ready to, except the bride and groom gift exchange. You're probably tired and stressed from all the planning and you're overwhelmed with all the presents you, as a couple will be getting. You haven't thought about what to get your man on your big day. Besides the wedding ceremony and time spent together on your honeymoon, the gift you'll give your husband on your big day will be one he will remember and cherish for many years to come.

When it comes to gifts for your husband on your wedding day, one can either break the bank (or in a more realistic case, keep the bank running), choose a practical gift, go the sentimental, personal route or go for something fun. Whatever gift you choose, it should reflect your unique love. Of course, it also needs to be something he will like. If your wedding is quickly approaching and you don't know what to get your new hubby, here's what to gift your groom on wedding day:
A watch
Is there a style or brand of watch your fiancé, or soon-to-be husband has always wanted? A watch can be as sophisticated or as casual as the personality of your husband's personality. Regardless of whether your fiancé is at the office working or attending a sporting event with his buddies, a watch will make your man look great. To make the gift even more memorable, you can have a short, memorable message written into the inside of the band that says how much you love him.
Add loving touches to a tie or shirt
Before the wedding, snag your fiancé's tie or shirt he will wear at your wedding and have an area on the inside or underside embroidered with a short, loving message. The underside of the tie or the inside of the shirt collar.
Cigars
Even if your soon-to-be husband doesn't smoke regularly or only rarely on occasion, he will be pleasantly surprised with a box of high-quality cigars. The novelty of fine cigars makes them great for celebrating life's biggest moments. Because they are special, your husband will remember your wedding day even more.
Letters
Usually, the best presents are free. They are also handmade. Letters are the most basic, yet most powerful gifts a person can receive. Write your husband a loving message about how much you love him, your excitement to spend the rest of your life with him and why you want to marry him. This heartfelt message will be a great "pep talk" for the groom before he walks down the aisle. For some added fun and sentimentality, you can write a series of "open when" letters. This includes when you buy your first home, your one year wedding anniversary, when you have your first child, etc.
Experiences
Sometimes the best presents are priceless experiences. Tickets to a sporting event where he can see his favorite team, a movie, a concert with his favorite band or tickets to travel somewhere in the world he has always wanted to go to (maybe a honeymoon or second honeymoon?).
A Secret Little Black Book
If you want a fun gift that will also make your fiancé blush, you can give him a "little black book" of boudoir photos of you. You can be sure that it will become his favorite book and one which he can't put down (unless he's spending time with you). Since these pictures are becoming more popular, some wedding photographers will provide boudoir photoshoots at an additional charge. Mermaid Pictures and Printing is a professional wedding photographer in Turks & Caicos that also shoots boudoir photos for clients who want unique wedding gifts for their spouses that kick off their marriage on a fun note.
The most important present you can give your soon-to-be husband is your undivided love, respect and devotion. Your wedding day is something you will both cherish for many years to come. An experienced wedding photographer is important in documenting the memories on your wedding day. If you haven't decided on a wedding photographer, Mermaid Pictures and Printing has been doing quality photography for many years on the destination wedding islands of Turks and Caicos and Miami. If you're having a tropical destination wedding, contact us to schedule a consultation.