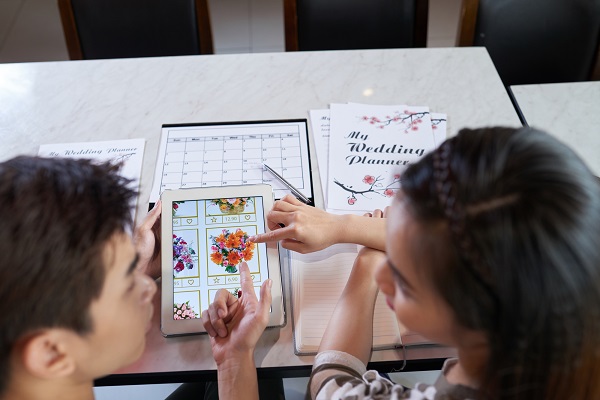 02 Aug

Wedding Planning Secrets from a Turks and Caicos Wedding Photographer

Your wedding day is the one day you want everything to turn out perfectly. You spend months meticulously planning. If you're having a destination wedding, like a beautiful Turks and Caicos wedding, more effort is required in coordinating the big day.

Besides careful, thorough planning, how can you ensure that your wedding will go just the way you want? Here are some wedding planning secrets from a Turks & Caicos wedding photographer at Mermaid Pictures & Printing:
Be Mindful of Lighting
Take a walk through the venue with your photographer at the same time as your wedding prior to the actual date to get an idea of what the lighting will be like. You'll see what areas have shadows and what areas will be great for wedding day photoshoots. If you're having an evening wedding, ask if it is possible to have some portraits taken before the wedding while there is still adequate light.
Don't Be Afraid to Ask
Don't be afraid to toss some ideas around with your wedding photographer. It's important to establish a close, comfortable relationship with your photographer. Be up-front with what you want and what is possible with your budget. Request the photographer for photographs of certain details and portraits that fit your unique personality. If the photographer doesn't provide in his or her package everything you want, ask for a customized package.
Avoid Room Cancellation Hotels
Look around at hotels near the wedding venue that offer wedding group discounts and the availability of blocks of rooms. Reserve rooms with hotels that allow you to release rooms a month or so before your wedding. Avoid booking rooms with hotels that will charge you penalty fees for unused rooms or canceled reservations.
Get Engagement Photos
Engagement photo shoots are excellent opportunities for you and your photographer to get acquainted with each other. The photographer will get an idea of your personality, style and photo preferences and you'll get a feel of the personality and ability of the photographer. If it is a good match, you'll both know what to expect from each other on the big day.
Keep a Paper Trail
Keep track of all your receipts, confirmation numbers, phone numbers and names of the people you've interacted with to help plan and coordinate your wedding. If there are any changes made, send reminder emails to the vendor confirming the change. Don't assume the vendor will remember the changes, especially if they aren't stated in the contract.
Put it on Credit
Weddings are typically expensive. You're likely going to put many of the expenses on a credit card. If your credit card doesn't offer a rewards program, sign up for one that does. The points you accumulate for all your wedding purchases can be used for items such as airfare for a honeymoon or shopping discounts for home furnishings.
Take Advantages of Connections
Ask your wedding coordinator, florist or wedding photographer for recommendations for other vendors to work with. For instance, I can help couples get into contact with hotels, florists and various caterers.
Be Aware of Food and Lodging for Your Wedding Crew
If there are any wedding vendors you're working with who will be coming in from out of town, they will need a place to stay and food to eat. Some vendors state in their contract that they require to be fed the same food as wedding guests. Look to arrange a more affordable, though nice and filling meal for your vendors and reserve a hotel room or two for them.
Keep an Eye on the Bar
Weddings are parties. You want your guests to enjoy themselves. In addition, a celebration won't be complete without drinks to toast to. It is common for couples to request a bar at their wedding reception. As a rule of thumb, try to have at least one bartender per every 50 guests.
Keep Important Numbers on Hand
As meticulous as your wedding planning is, some hitches can still occur on your wedding day. Having the numbers of all your vendors on speed dial and readily accessible in a minute's notice will help keep a minor mishap from turning into a wedding day nightmare.
Your wedding day is one of the most important events in your life. I hope these tips will help you in your wedding planning process and help you think of important details you may have either overlooked or not considered.
Mermaid Pictures and Printing specialize in capturing destination weddings on the magical islands that make up Turks & Caicos. If you're planning a wedding Turks & Caicos, contact us for a consultation appointment.