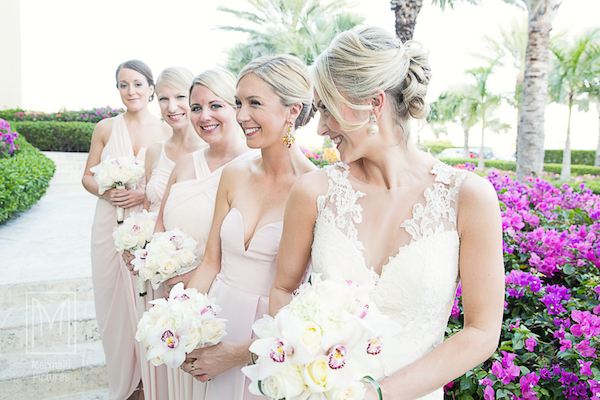 21 May

Top Luxury Wedding Venues in Miami

Wedding planning can be exhilarating as well as stressful and exhausting. Besides the date, the location is the most important thing to lockdown. Without a venue, the wedding won't be as glamorous as you'd like. What's more glamorous than the top luxury wedding venues in Miami?

Finding the right location for your wedding can be a challenge. You want it to portray a certain feel, accommodate all your guests and stay within budget. You'll likely have friends and family driving or flying out to be present as you celebrate your special day.

You've settled on getting married in Miami, Florida. You've always wanted a beach wedding and Miami is a big city that has numerous attractions for your guests to enjoy (if for some reason they don't want to spend laying on the beach).

Miami also has numerous hotels ranging from quaint and classical to modern luxury where your guests can enjoy themselves. Miami also is near an airport, making for convenient travel for wedding guests coming from out of town.

Now that you've decided to have a tropical, beach wedding in Miami, you now have to decide where. Miami is a large city with miles of coastline. There are hundreds of wedding venues in Miami promising the best views and amenities. If you're unfamiliar with the area, it can easily get overwhelming.

If you're planning to go all-out for your once-in-a-lifetime dream wedding, here are some places worth checking out:
W South Beach
At the W South Beach hotel, you and your guests are in the center of the pulsing downtown Miami surrounded by fun clubs, fine, renowned restaurants and numerous tourist attractions. The W South Beach features luxurious guest rooms, a private beach, an in-house restaurant and rooftop basketball, and tennis courts.
If you're looking for a more exciting, energizing and fun-for-all wedding this is your spot.
The Palms Hotel & Spa
If you're looking for something more relaxed or maybe a venue that has multiple spaces and amenities to make your wedding as unique as you, try the Palms Hotel & Spa. This popular wedding venue is tucked away from the hustle and bustle of downtown, making for perfect beachside serenity.
A variety of indoor and outdoor wedding spaces are available, giving you the opportunity to have the perfect wedding ceremony that captures your unique character and personality. On top of that, you and your guests will be treated to decadent natural gourmet cuisine and personalized service.
Acqualina Resort and Spa
The award-winning Acqualina Resort and Spa is the perfect luxury beach wedding destination for the couple who wants the convenience of having everything "right there." At Acqualina, there is a professional wedding planner on-site to guide the soon-to-be couple throughout the process.
There are a variety of indoor and outdoor wedding spaces that expand to accommodate more guests and weather conditions. The banquet rooms fit up to 130 guests and offer temperature control, a sophisticated lighting system, and a superior sound system.
Acqualina Resort & Spa is centrally located near Miami's top attractions and nightlife.
While all the elements of your wedding are handled, your wedding is the center of attention. At Acqualina, only one wedding at a time and they offer a Honeymoon Package to complement your big day.   
The Betsy Hotel
The Betsy Hotel offers a quiet, more laid-back beach house environment while also providing world-class elegance. This top-rated, cute boutique hotel gives guest breath-taking views of the ocean and the Miami downtown skyline.
The indoor, private dining spaces give off a vintage glamour feel and the award-winning chef Laurent Tourondel caters each decadent meal.
Hotel Fountainbleau Miami Beach
Hotel Fountainbleau is one of the more recognizable wedding venues in Miami. The newly remodeled Hotel Fountainbleau Miami Beach features some of the most exquisite and detailed interior decoration and architecture which captures the essence of 21st-century glamor. Here, guests will find a whopping 107,000 square foot indoor space, three elegant ballrooms covering 66,000 square feet and having the capacity to accommodate up to 3,000 guests.
For those looking to have an outdoor wedding, Hotel Fountainbleau has 51,000 square feet of outdoor space. This includes a 21,000 square feet lawn.
All meeting spaces at Hotel Fountainbleau come equipped with the most modern, cutting edge sound and visual technology.
St. Regis Bal Harbour Resort, Miami Beach
The St. Regis Bal Harbour Resort, Miami Beach is one of the area's newest additions featuring 243 elegant and luxurious guest rooms with all the modern bells and whistles one could think of and well as spacious floor-to-ceiling windows of the bright blue ocean water and white sand beaches.
The St. Regis is conveniently located across the street from the Bal Harbour Shops. This is just minutes away from the energy and attractions of downtown Miami.  
Miami is a great place for a destination wedding. The pristine beaches will give you the dream wedding you've always wanted without the hassle of international travel. There are also numerous hotels, wedding venues and attractions for out of town guests to enjoy.
When looking for a Miami wedding photographer for your wedding, contact Mermaid Pictures and Printing. Our expert beach destination wedding photographers have many years of experience and clients that continue to return as their families grow and they want to capture the here and now.
Contact us today and we'll make sure your luxurious, Miami beach destination wedding will be one that you won't forget by perfectly capturing every memory.