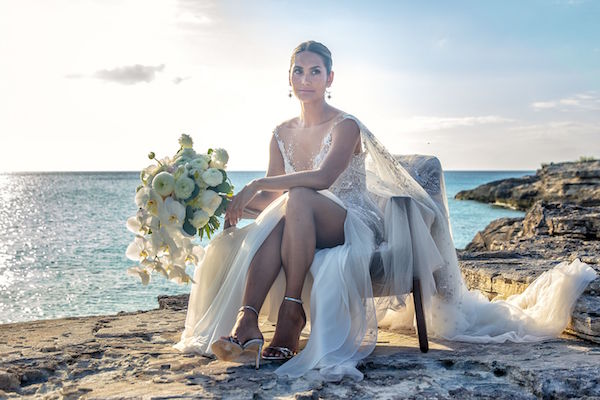 03 Apr

What to Look for in a Destination Wedding Photographer

There are few things more important than choosing who captures the memories of your big day. These are the memories that you'll long back on and cherish for a lifetime. Your wedding photos will preserve every smile, tear and precious moment throughout the joyous occasion. Picking any random destination wedding photographer to document it just won't cut it. Your wedding photos will be what you proudly show to friends, family, children and grandchildren. They'll be focal points within your home, your office and even on social media. It's important that your images are of the highest quality.

So what are the most important characteristics and how do you go about finding such a qualified destination wedding photographer?
Cost of a destination wedding photographer
There are many aspects to consider when hiring a qualified wedding photographer. The first thing that may come to mind is the cost. Not all expensive wedding photographers have raving reviews and not all low-budget photographers produce poor work. You can't base your wedding photographer decision on price alone. Consider the long-term. An investment in higher quality images and beautiful memories may or may not be worth a larger portion of your wedding budget to you, so here are some other things to consider when making that determination:
Location
Selecting a photographer who is local and has spent time exploring and photographing in the area is your best choice. A local photographer knows the most stunning, picturesque spots your location has to offer. You may have a favorite photographer you're considering flying in for a destination wedding, but they won't know the nooks and crannies holding incredible light and hidden gems that will make your photos truly unique.
Local reputation
Take the time to get an idea of how others feel about the photographer and what their experiences were like. Scope out your destination site before-hand to talk to locals and wedding vendors for the best word-of-mouth recommendations.
Destination wedding photographer's experience level
Like hiring anyone for and important "job," you'll want a destination wedding photographer with experience under his or her belt. If your budget is tight, you may be able to find up-and-coming, budding, affordable wedding photographers looking for experience. Keep in mind these are the moments you'll never get back, and chancing on a photographer is a gamble. Talk to the photographer beforehand and ask to see a portfolio of their past work.
Wedding specialization
Depending on your needs, someone who specializes in weddings will be your best choice for an exciting destination wedding. Specialists have a keen eye for how to capture the top moments of your big day. Photographers who do other types of photography, like family portraits, often produce great wedding pictures that satisfy most couples' needs.
The destination wedding photographer's style
Each wedding photographer has a unique style—from bright and fun to classy and vintage. The photographer's style is a key factor. Style dictates how your wedding is perceived and the kinds of images you'll have for a lifetime. If you're planning on displaying your images, pick a photographer whose style compliments the vibe of your wedding. Browsing through the photographer's portfolio will give you a great idea of their style and versatility.
Equipment used
Photographers have their own preferences on what type and how much equipment they use when documenting weddings. Some higher-end photographers may haul around more equipment. The more equipment the photographer uses, the more you have to consider the costs, space and set-up time. Natural light photographers typically carry less equipment, but it depends on what you want the end result to be. Talk to photographers you are interested in about what they use to see how it will benefit your images.
Packages and options offered
Many photographers offer a variety of packages. Most packages include a select number of prints in different sizes and photo CDs or DVDs. Your photographer selection may be based on what your photography needs are. It's always great when you can find a photographer who can customize their image and print options to your needs. You may see your photos and want more or less than what a "standard" package offers.
Many couples head to Turks and Caicos for their destination wedding. The gorgeous, secluded beaches make for the perfect wedding backdrop.  At Mermaid Pictures, our qualified, expert photographers are well-known and well-regarded in the Turks and Caicos community. We have many years of experience doing weddings and family portraits. Contact Mermaid Pictures so we can meet your wedding needs and beautifully capture every magical moment of your day.